Did you know that Scaffold violations are number five on the "2022 Top Five OSHA Violations" list?
How do you keep your workers safe while they are working on scaffolds and how do you monitor scaffolds erected by another company?
What is the key to avoiding scaffold violations on your worksites?
Scaffold safety may leave you scratching your head, especially when the scaffold is shared with other trades and the movement of workers and materials is always changing. A misstep or failure to reassess after a change can result in your worker being seriously injured.
Let's take a close look at OSHA's scaffold requirements and add in some BEST PRACTICES for keeping your workers safe and your site compliant. In our earlier blog, Top 5 OSHA Violations, 2022, we suggested using a point-by-point "Compliance Checklist" to bring each area of potential violation into focus. This way, nothing is missed! Click the link above to access the checklist.
OSHA's Specific Criteria For Supported Scaffolds, Suspended Scaffolds & Aerial Lift Requirements
OSHA set clear guidelines and specific criteria for all types of scaffolding as well as safety checklists that identify the hazards and controls of each type. Check them out here: https://www.osha.gov/scaffolding/hazards-solutions
Even if you are not erecting your scaffolding, it is important that, as a Safety Professional, you understand the specific criteria that OSHA has in place for any scaffold that your workforce will be using.
Did you know that OSHA includes Aerial Lifts in their scaffold requirements? Did you know that in 2020, Aerial Lift infractions made the top of the OSHA scaffolding violation list 2020? Aerial lifts are frequently replacing traditional scaffolding in certain industries. It is becoming increasingly important to make them a safety priority!
OHSA's Scaffolding Fall Protection Requirements
From the chart above, it is clear that Fall Protection violations are at the top of the heap! Violations are all about noncompliance and it goes without saying that OSHA compliance is important, but remember this…. Falls, either from heights or from as low as 2' result in the highest number of workplace fatalities and serious injuries. Combining the consequences of non-compliance and the seriousness of falls draws a clear picture of the need for continuous vigilance, training, and consistency when it comes to Fall Protection!
Fall protection in Aerial Lifts ( basket)
OSHA standard 1926.453(b)(2)(v) requires workers to wear a body belt, with a lanyard attached to the boom or basket, when working from an aerial lift.
Fall Protection above 10' (

or as required by the legislation from your jurisdiction if less

)
OSHA standard 1926.451(g)(1), anyone working on a scaffold more than 10 feet above a lower level must be protected from falling to that lower level by guardrails, a personal fall arrest system, or both.
Give special attention to guardrails!
Ensure that they have been installed properly and train your workers to continuously reassess the placement and/or condition of guardrails, especially after materials have been lifted onto the scaffold or when other trades are using the scaffold.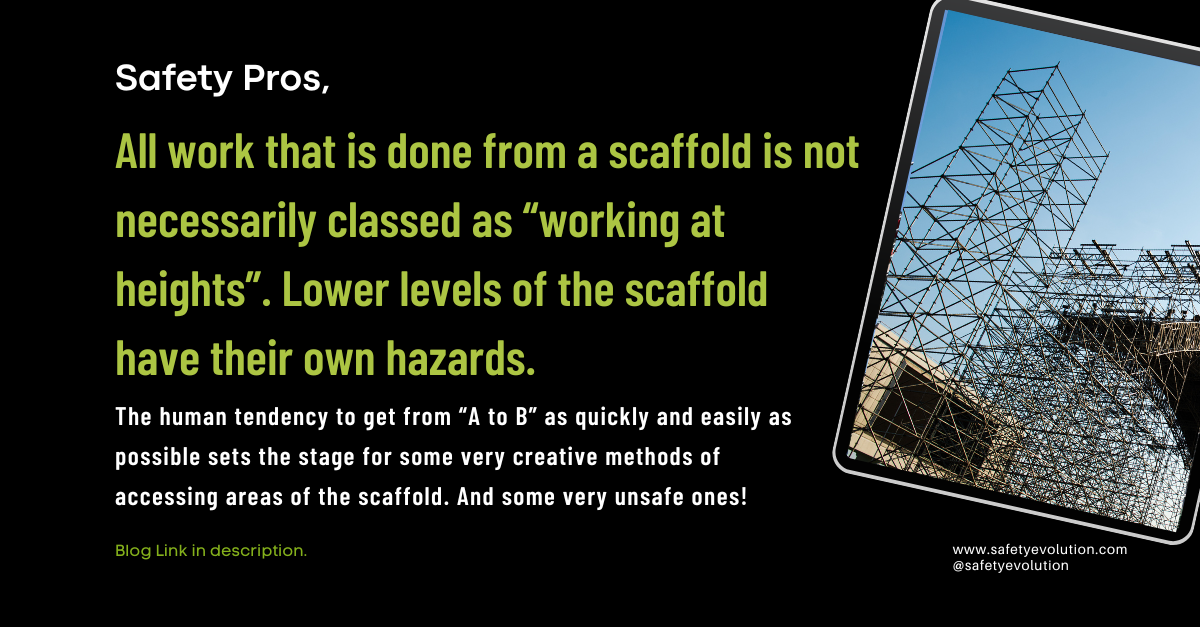 OSHA's Scaffolding General Requirements Include Capacity Platform Construction & Access Requirements
All work that is done from a scaffold is not necessarily classed as "working at heights". Lower levels of the scaffold have their own hazards.
The human tendency to get from "A to B" as quickly and easily as possible sets the stage for some very creative methods of accessing areas of the scaffold. And some very unsafe ones!
You will always have that worker who loads up with tools and attempts to climb across the braces to access the scaffold platform. OSHA Standard 451(e)(1) says NO!
Providing safe access to your workers not only keeps you OSHA compliant but just makes good safety sense. When a platform is more than 2' above or below the point of access, OSHA standard requires that a means of access must be in place, such as a stair tower or a ladder. Ensure that ladders or stairs that provide access from one level to another have slip-resistant treads and extend at least 3' above the platform level.
Providing safe access leads you to your next step… providing an OSHA-compliant work level.
To avoid tripping hazards and the potential for material to drop to lower levels, all work levels must be fully planked between the front uprights and the guardrail platforms. Limit any gaps in the platform to 1" ( or less if the legislation of your jurisdiction requires it. Space wider than 1" may be required around uprights)
OSHA's Scaffolding Training Requirements
Training, training, training! There can never be enough emphasis put on the importance of training! Safety professionals know this and OSHA knows this. OSHA Standard 126.454(a) requires that all workers using scaffolds MUST be trained by a qualified person.
Training :
The recognition and control of the hazards associated with the type of scaffold in use - falls, electrical hazards, and falling tools or materials.
Material handling on scaffolds
Load Capacity - scaffolds must be able to support at least four times the maximum intended load. Ensure that this does not exceed the manufacturer's stated capacity.
Safe scaffold footing - set on a stable and level surface
Inspecting scaffold assembly - wheels locked, tags in place ( red tag- incomplete = STOP or green tag - Safe Scaffold) Guard rails in place and secure.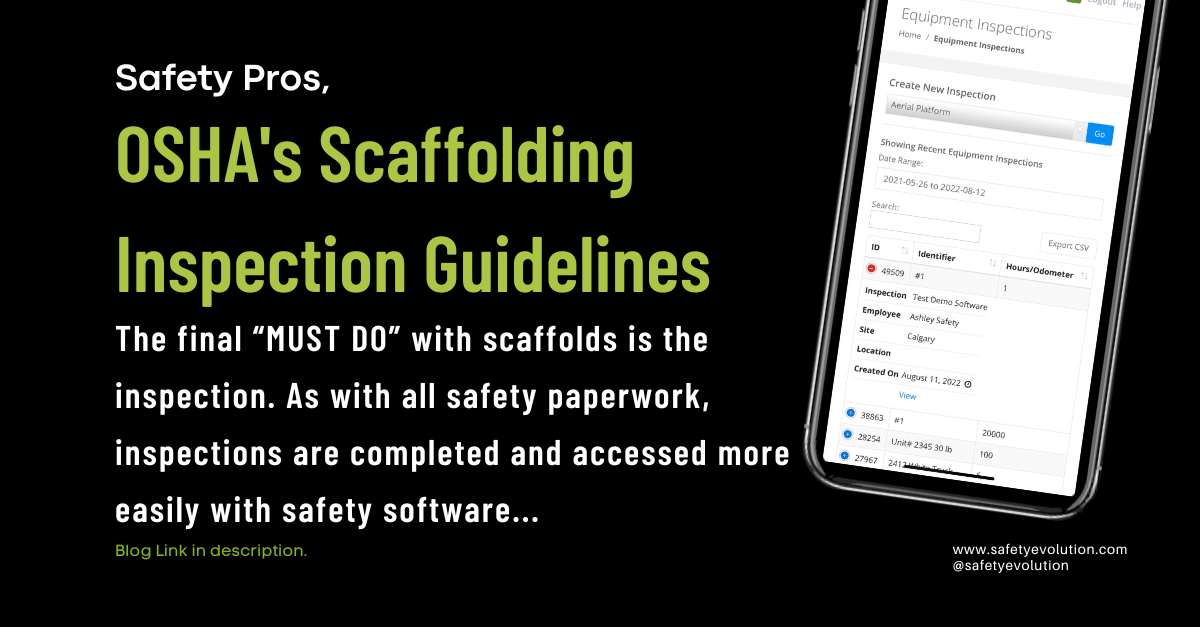 OSHA's Scaffolding Inspection Guidelines
The final "MUST DO" with scaffolds is the inspection. OSHA has set up inspection guidelines which can be reached from the link here: Construction Focused Inspection Guidelines
As with all safety paperwork, inspections are completed and accessed more easily with safety software. Corrective actions are assigned and tracked for consistent timely completion.
STOP WASTING TIME FILING PAPER FORMS -

HAVE OUR TEAM DIGITIZE YOUR FORMS FOR FREE.
Subscribe below for more weekly content digging into all things Health and Safety!