Digitize Your Safety Program now with Safety Evolution's
60-Day Free Trial!
+ Claim Your

$13,400 in exclusive offers!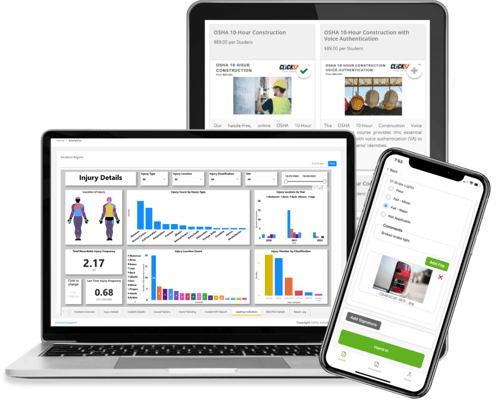 Imagine a workplace where the chaos of paperwork is replaced by digital efficiency. Consistent training, real-time safety document tracking, and asset management become easily accessible, elevating safety and reducing accidents.
Cutting-edge PowerBI dashboards become your command center, offering real-time insights and analytics. Decision-making is transformed into an informed, strategic process, making you feel in control, proactive, and innovative.
Go paperless today and get access to our

Exclusive Offer

...
A Year's Worth of Weekly Toolbox Talks

Empower and educate your team with a full year of engaging weekly toolbox talks, fostering a culture of safety awareness and continuous improvement.
New Hire Safety Orientation: Valued at $2500

Start your new hires off on the right foot with our pre-built orientation program, ensuring they're equipped with essential safety knowledge from day one. Save $2500 on this program.
WHMIS (GHS) Online Training Free: Save $29 per person
This course provides comprehensive, industry-recognized training that will keep your teams safe and your business compliant. If you were to assign 100 workers a $29.00 course, you'd save $2900 each time!
Form Template Library with 100+ Free Forms
Access an extensive collection of meticulously crafted forms that streamline your safety processes, saving you time and effort while ensuring compliance.
Weekly Supervisor Report with Time Sheets

Streamline reporting and timekeeping with our supervisor report templates, offering comprehensive insights and reducing administrative burdens.
Pre-Built Good Catch & Hazard ID Program

Cultivate a proactive safety culture using our ready-to-deploy programs designed to identify and address hazards before incidents occur. Including Online Training Courses, Pre-Built forms and KPI Reports!
Safety Meeting Template - Onboard Your Team in 15 Minutes!

Experience rapid onboarding with our user-friendly safety meeting template, enabling you to efficiently onboard, upload certificates, and complete forms.
Free Auditor Access for Life

Collaborate seamlessly with auditors and simplify your auditing process with complimentary auditor access, setting the stage for transparent and efficient assessments.
**And That's Not All!**
Annual Support Package: Save $2000 a Year!

Experience peace of mind with our comprehensive support package, included for free, saving you $2000 annually. Our dedicated support ensures you have assistance whenever you need it, for as long as you use our platform.
35% Off All Danatec Classes for Life
Unlock a world of learning with a lifelong 35% discount on all Danatec Classes within our state-of-the-art Learning Management System. Imagine the savings – if you were to assign 100 workers a $50 course, you'd save $1750 each time!
25% Off All Click Safety Classes for Life

Unlock a world of learning with a lifelong 25% discount on all Click Safety Classes within our state-of-the-art Learning Management System. Imagine the savings – if you were to assign 100 workers a $50 course, you'd save $1250 each time!
Analytic Reports Powered by Microsoft Power-Bi: Save $3000 a Year!

Harness the power of data-driven insights with our advanced analytic reports, fueled by Microsoft Power-Bi. Gain deeper visibility into your safety performance, incident trends, causal factors, and more, all while saving $3000 annually in analytics costs.
That is a total savings of $13,400 with this exclusive offer!!!
How It Works...
Simple! $10 per active user, a minimum monthly fee of 10 active users.
Your dream of transforming safety management can become a reality.
Imagine no more paperwork, just easy and clear ways to teach workers, check their skills, and make better choices along the way.
You can make this happen, and it won't be too hard.
In just a few months, you'll see big changes in how you do safety, and the work you put in will be worth it.
You'll have a new way to make sure everyone is safe, and your job gets done better and faster.
We get you started from Day 1 with...
We will set up your software and then add the top ten forms that your team can edit and make your own. We will add 52 weeks of toolbox talks, your new hire safety orientation, and the onboard your team in a 15-minute safety meeting template.
We will then send you your login with a 10-minute quick start to safety software success training video. You will be ready to edit your forms and add your company safety manual, SDS, SWPs, etc.
The final step is to invite your workforce to onboard your team in a 15-minute safety meeting.
You are ready to go!!!
Claim Your $13,400 in exclusive offers NOW!
Trusted by Companies Just Like You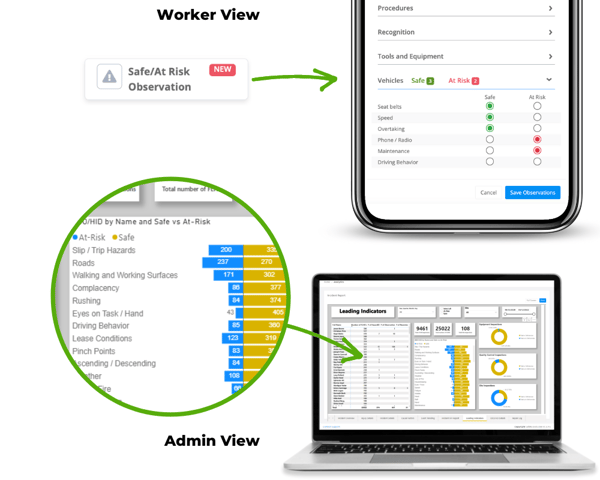 Digital Safety Forms
Managing Paper Documents and Compliance Tracking
Safety Evolution replaces paper processes with digital forms, allowing access to safety forms anywhere, certifications, and compliance. This eliminates the manual workload and ensures that information is always up-to-date and easily accessible.
Learning Management System
Inconsistent and Time-Consuming Training
Safety Evolution provides consistent and personalized training modules that can be accessed anytime and anywhere. This ensures that all workers are adequately trained and prepared, saving time and enhancing the quality of training.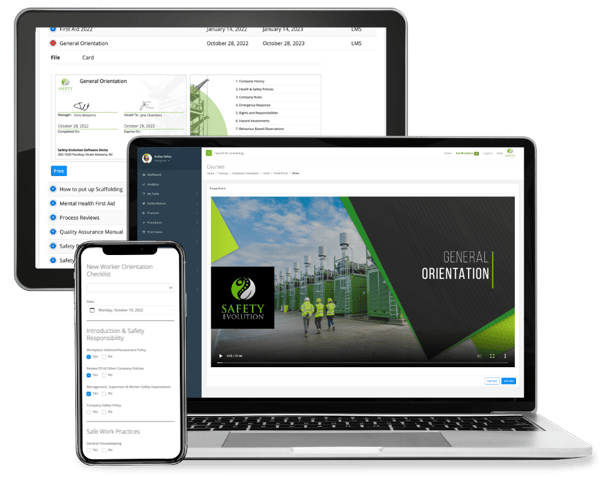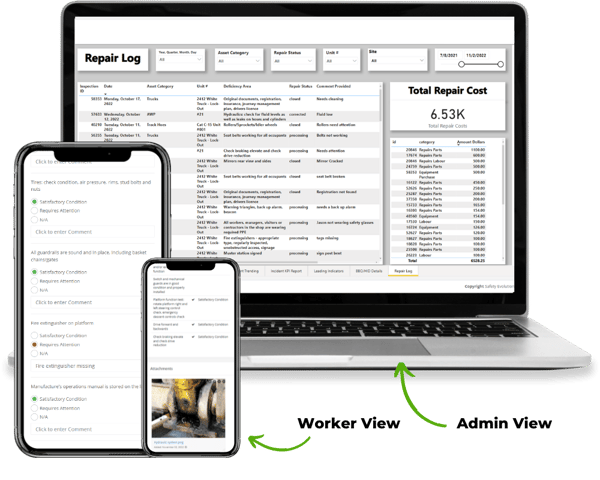 Asset Management
Equipment Maintenance and Inspection
The Safety Evolution offers systematic tracking, inspection, and maintenance of assets, ensuring that they are in optimal working condition. Inspections create action items that are tracked within the system, promoting safety and efficiency.
Power-Bi Dashboards
Lack of Real-Time Insights and Data-Driven Decision Making
Through the integration of cutting-edge PowerBI dashboards, Safety Evolution provides real-time insights and analytics. This empowers safety professionals to make informed, strategic decisions, enhancing continuous improvement.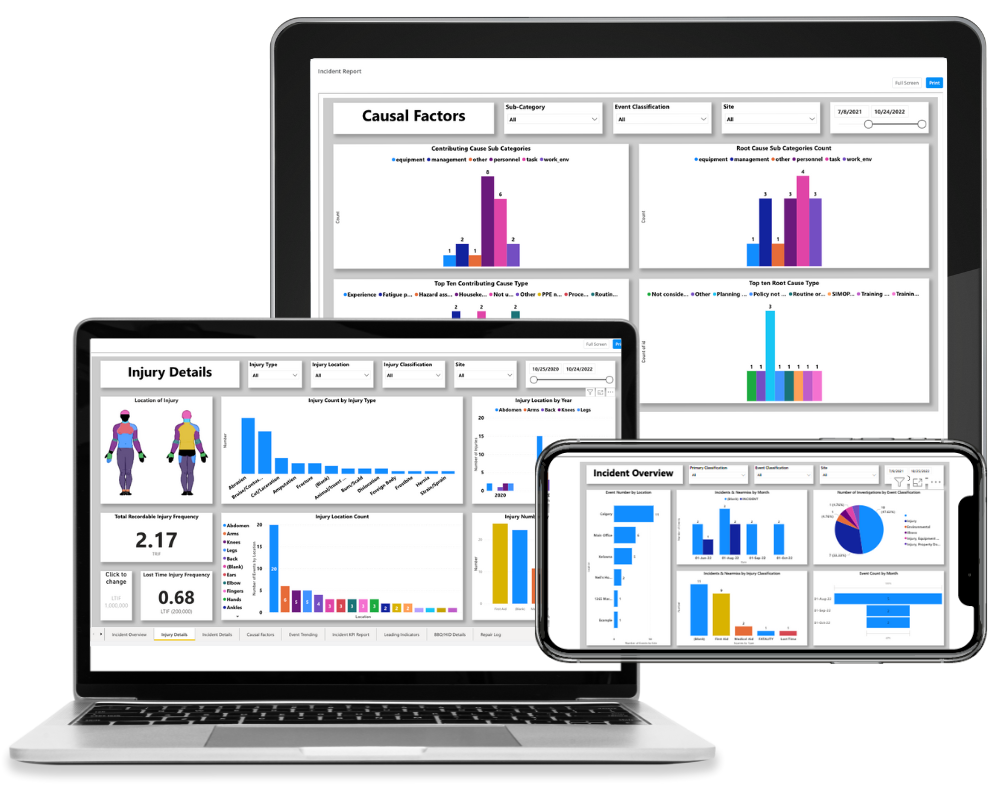 TESTIMONIALS
What our customers are saying
"Safety Evolution worked tirelessly to create an entire safety system catered to my business by my deadline, and they have always continued this same level of support. I would recommend Safety Evolution to anyone who has a need for a high-level, state of the art, safety system. They will not disappoint you."
I no longer have to go to the office or meet an employee on-site to fill out their paperwork. Our new workers have told us how easy it was to do on their laptop from home
"Safety Evolution Software was the tool we needed to unify our safety program and have a more manageable system. The team at Safety Evolution goes above and beyond and is always available to answer questions, fix problems, and walk you through the tools that you are learning to use."
Top 10 Features
Build Custom Forms: Hot Work Permits, Confined Space Log, Emergency Response Plans, JSA, OSHA 300, Hazard Assessments, etc

Employee Profiles that Track Worker Certifications & Training with 30-day Expiry Notifications

Schedule Inspections for Equipment & Locations with Automated Corrective Actions

Preventative Maintenance & Asset Management System

Learning Management System with ClickSafety, Danatec & ALARA Certified Courses

Hazard ID, BBO and Near Miss Reporting
Safety Manual, SDS, Safe Work Practices & Procedures Searchable In Your Safety Software

Full Incident Reporting & Investigation Management System

Create Custom Orientations & Training Courses with Quiz's

Pre-Built Analytic Reports that Produce KPI's

SEE MORE FEATURES
MORE TESTIMONIALS
What our Customers are saying...
Brady now has real-time access to their data. Mechanics, drivers, swampers and dispatchers can all plan their day!
Daniel now has his 30-day alerts for expired training, real-time corrective action log and got time back in his day.
Temi went digital with his team of 60+ remote workers, within 60 days. You can too!
RETURN ON INVESTMENT
Curious how going digital can save you money?
Results
Hours needed managing paper
/yr
Cost to manage safety on paper
$
/yr
Ready To Go Digital?
60-Day

Risk

Free Trial!
Safety Evolution empowers businesses by replacing paper chaos with our digitized, well-integrated safety software. Free up your time for productive tasks and leave behind the paper trails.
Claim Your $13,400 in exclusive offers NOW!