Digital Safety Forms
Build Digital Safety Forms That Do What You Want
Safety Evolution's Form Designer gives you the ability to digitize all of your safety paperwork with powerful modules that initiate alerts/notifications, capture worker and third-party signatures, and make tracking your assets, employees, sites and locations effortless.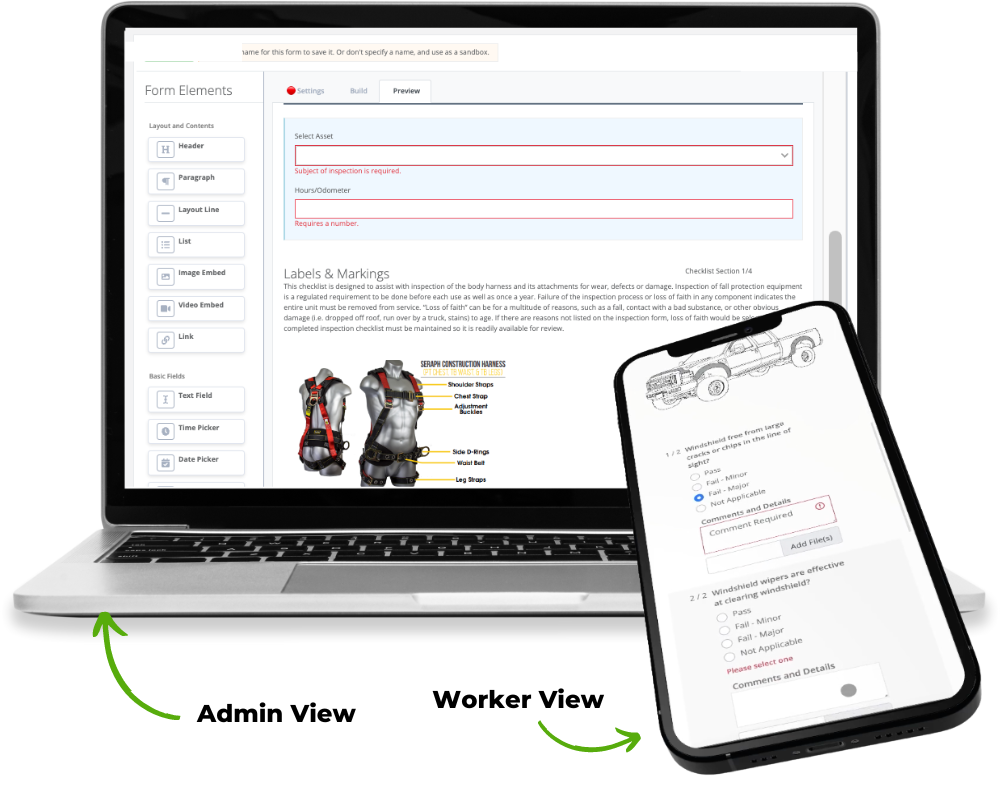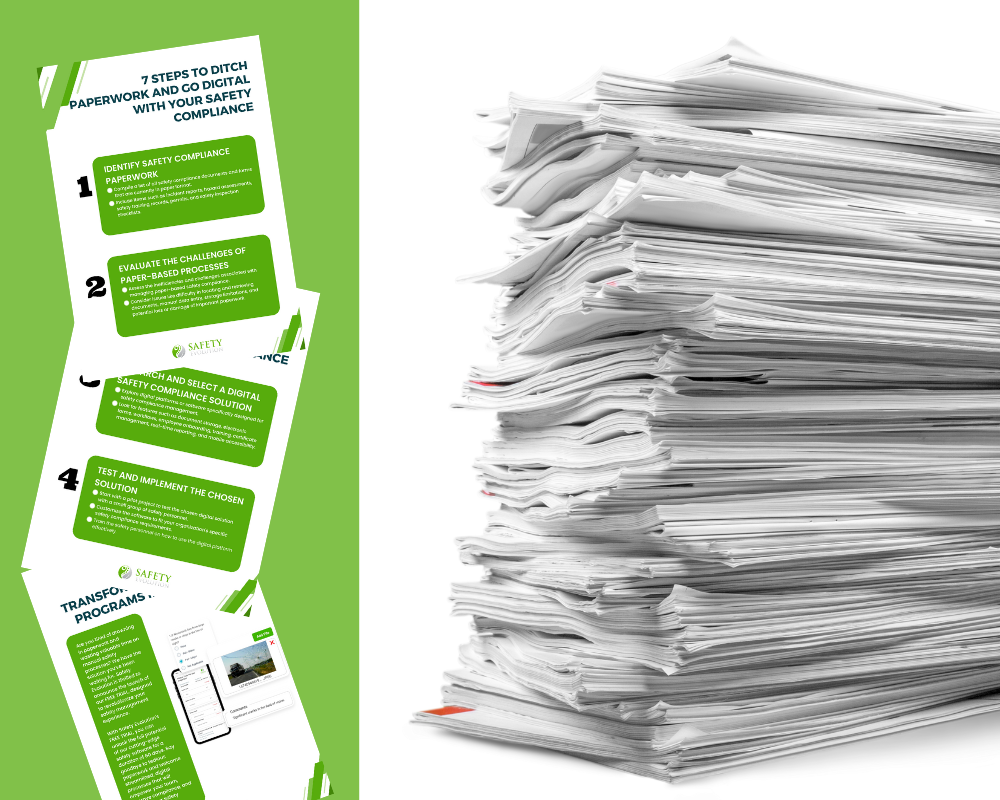 Free Guide
Ditch Paperwork and Go Digital!
Discover the roadmap to a digital transformation of your safety compliance regime in just 7 crucial steps!
Just follow the steps, and we assure you a simplified safety management landscape saving countless hours and increasing operational efficiency. It's time to go digital! Secure your checklist now and kickstart your journey!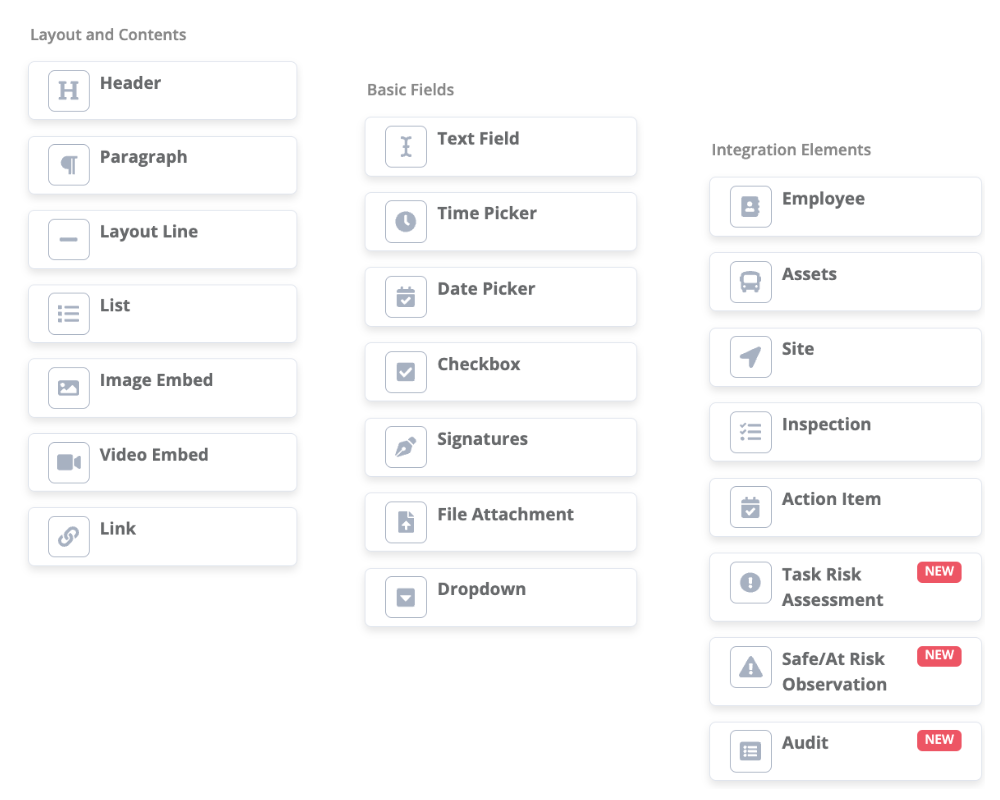 Stuck with safety forms you don't like?
Create digital safety forms
Intuitive form elements make it easy to not only recreate your safety forms but enhance them with video, images, links and more. Repeatable sections make capturing entry logs a breeze. Connect your sites, assets and employees for analytics.
"Equipment inspections are missing deficiency follow up"
Inspection Element Wizard!
Do you need DOT compliant commercial inspections? We have them!
Using the Inspection Element, easily build custom equipment inspections, site inspections, quality control inspections, and competency forms. Create custom pass/fail-minor/fail-major/ responses and initiation of corrective actions for follow-up. Capture comments, photos, and files from the field.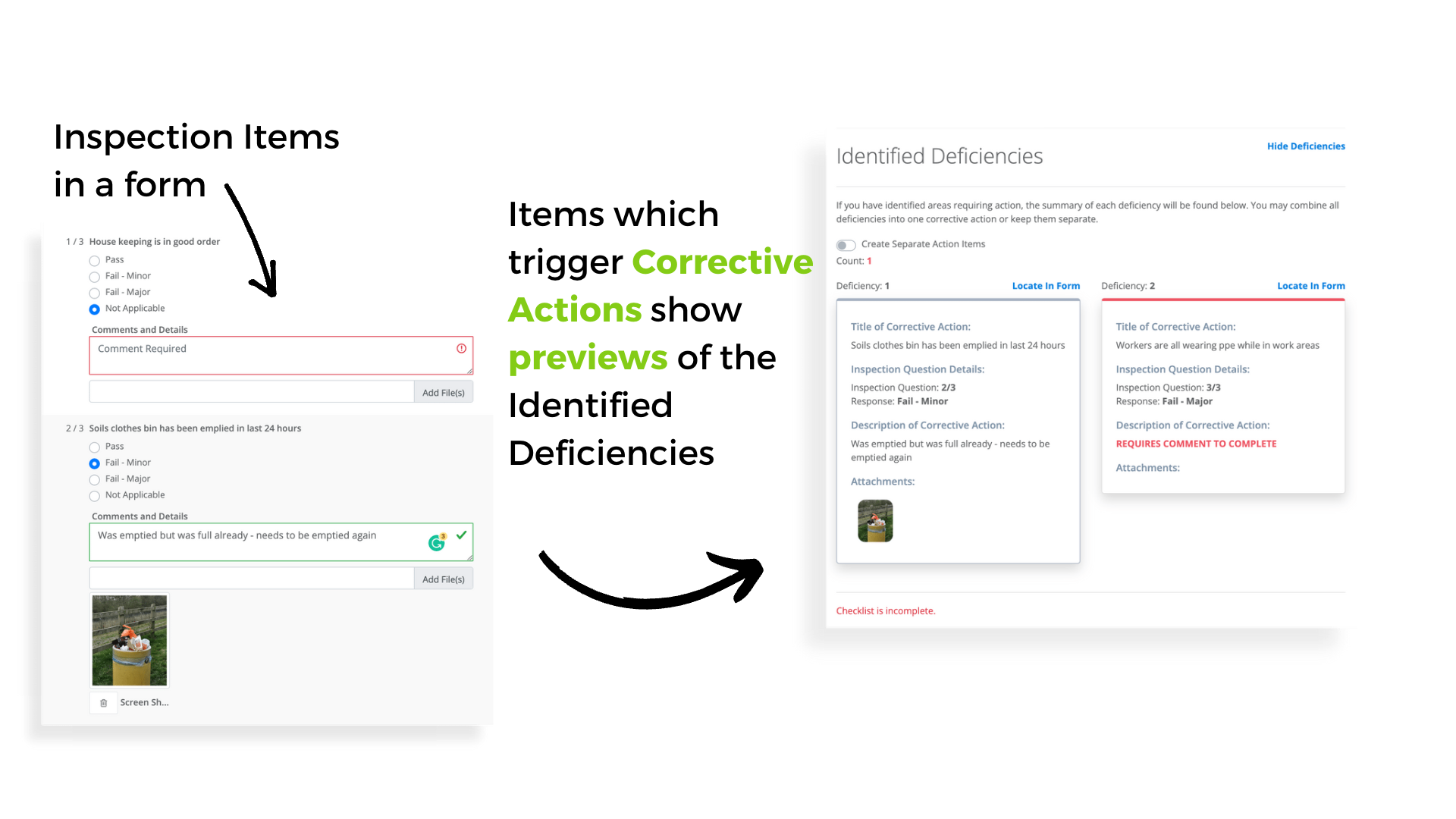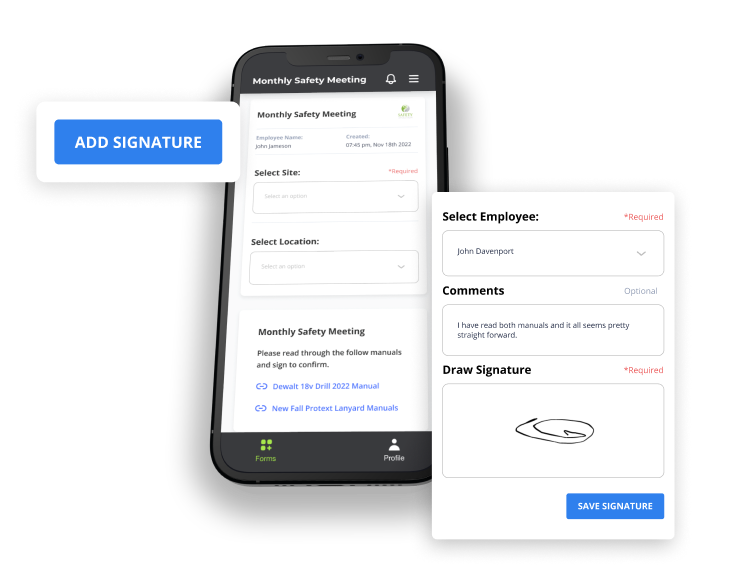 "I am tired of tracking action items in excel!"
Corrective Action Item Element
Build your custom toolbox talks, safety meetings, MOC meetings, management meetings, leadership meetings, HSE meetings, supervisor reports, hazard id's, along with any other form you want. Add the action item generator to your form to initiate corrective action workflows.
"My risk assessments are bringing down my COR audit scores"
Task Risk Assessment Element
Create custom daily hazard assessments such as field level hazard assessments, FLRA, JHA's and more through the COR-compliant task, hazard, control and pre/post risk ranking process.
Specify and take photos of the hazards in your work area. Indicate how hazards are controlled. Update the tasks, hazards, and controls in real-time. Capture worker digital signatures. Managers can monitor as forms are being filled out in the Manager tool.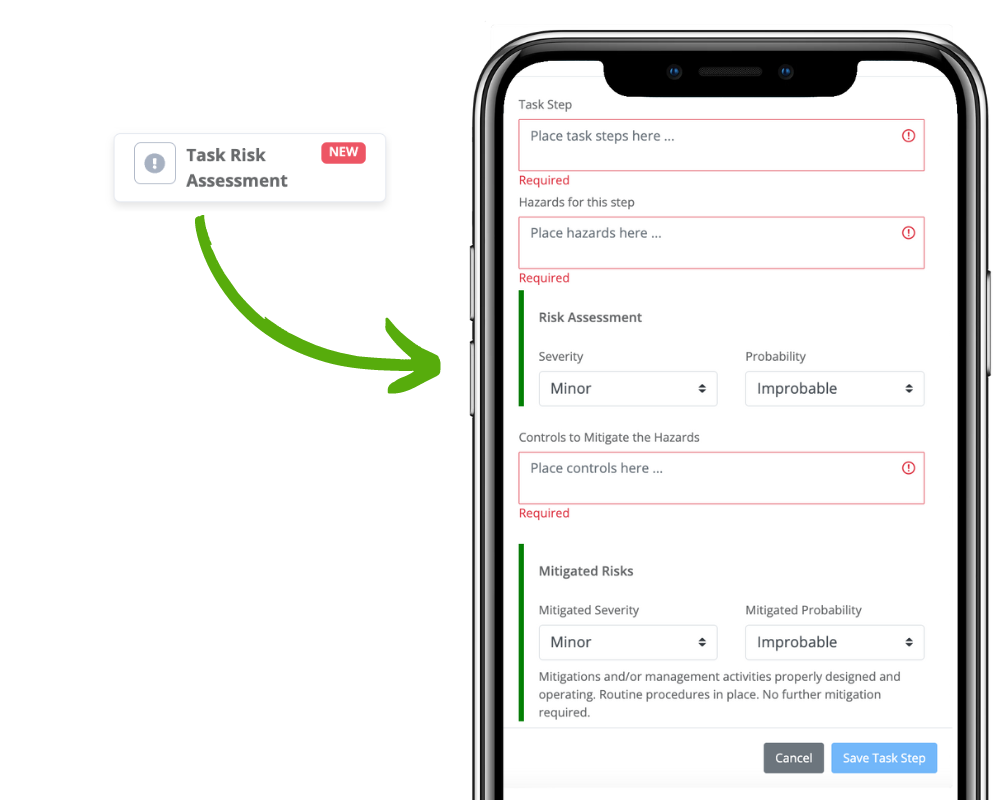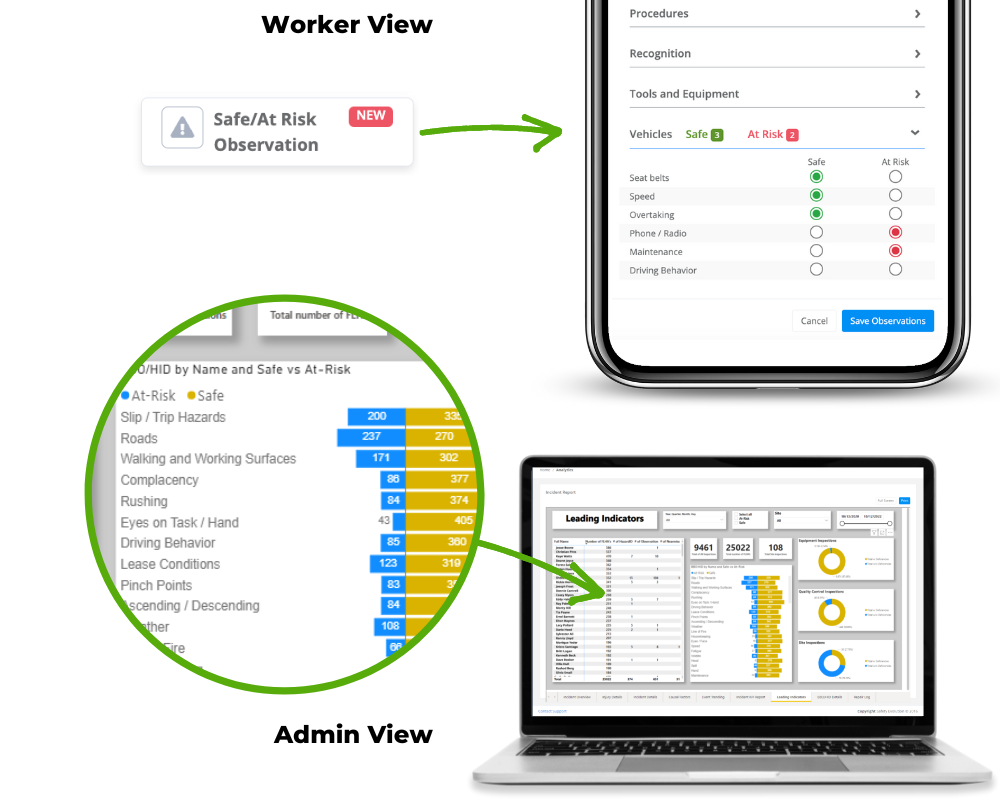 "I wish I could build behavioural observation forms"
Safe / At-Risk Observation
Implementing a BBS program can be challenging. Capturing analytics from those forms is time-consuming and almost impossible.
Not anymore! Safety Evolution allows you to easily build BBS forms for your workers to complete anywhere, at any time. Analytics are automatically collected and visualized in your Microsoft Power BI dashboard.
So you can easily spot trends that will help you stop unsafe behaviours before they become incidents.
Support your workforce in completing complex fieldwork
Videos, Photos, Documents, Links and more
Take your forms to the next level with the addition of how-to-videos for completing complex fieldwork.
Add educational images to highlight or teach overlooked items on equipment inspections.
Add reference documents and links to better support your workforce on the task at hand.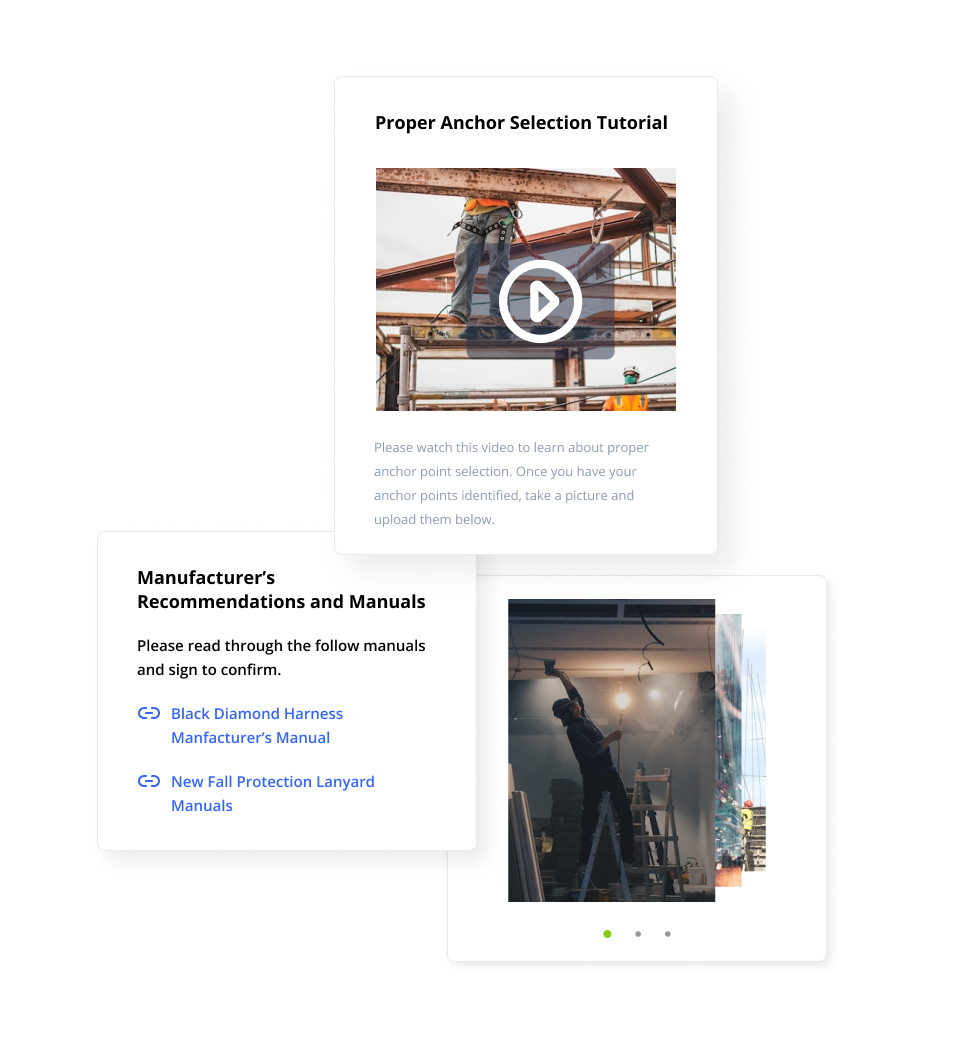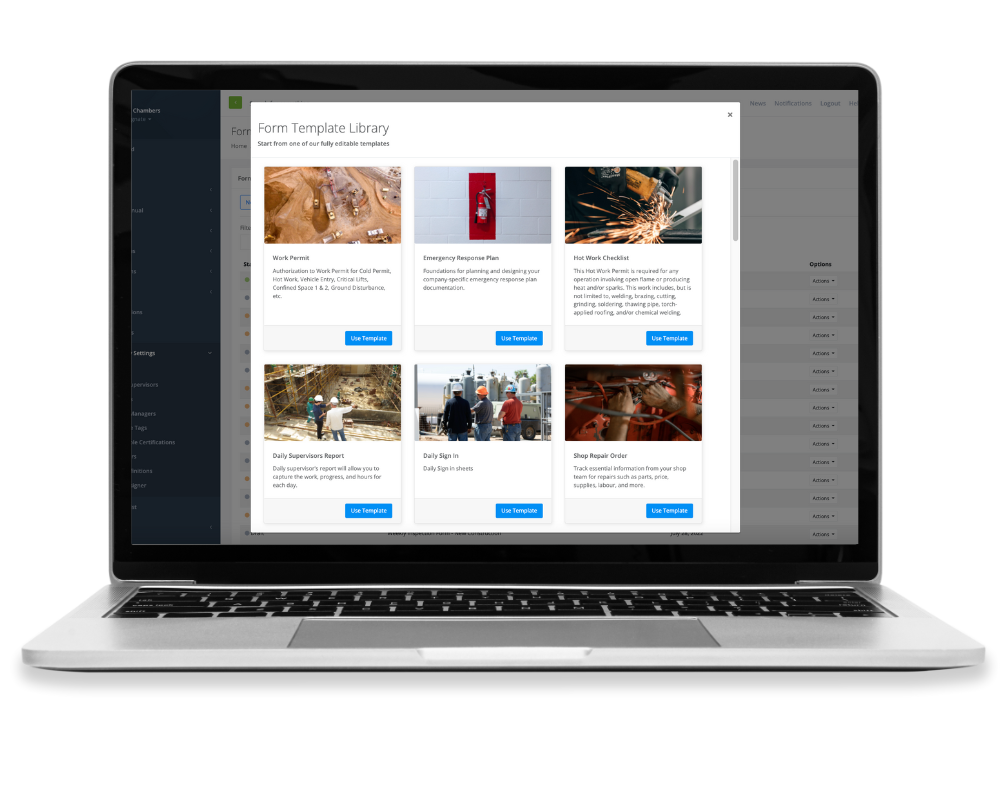 "We just got a new piece of equipment, now we need an inspection form."
Free Template Form Library
Your system comes with a Template Library of equipment inspections, site inspections, safety meetings, hazard id reporting forms, ERP's, toolbox talks and more. Use them out of the box or edit to make your own.
"Tired of chasing paperwork that isn't completed"
Schedule your safety forms to ensure compliance
Safety forms often are incomplete, unsigned, and forgotten. Schedule your safety forms by assigning them to employees and set the frequency of reminders. Workers will be alerted with notifications in their Mobile App.
Identify repairs earlier in the asset lifecycle, extend your equipment lifespan, and manage time and resources! Learn more about our Asset Management system.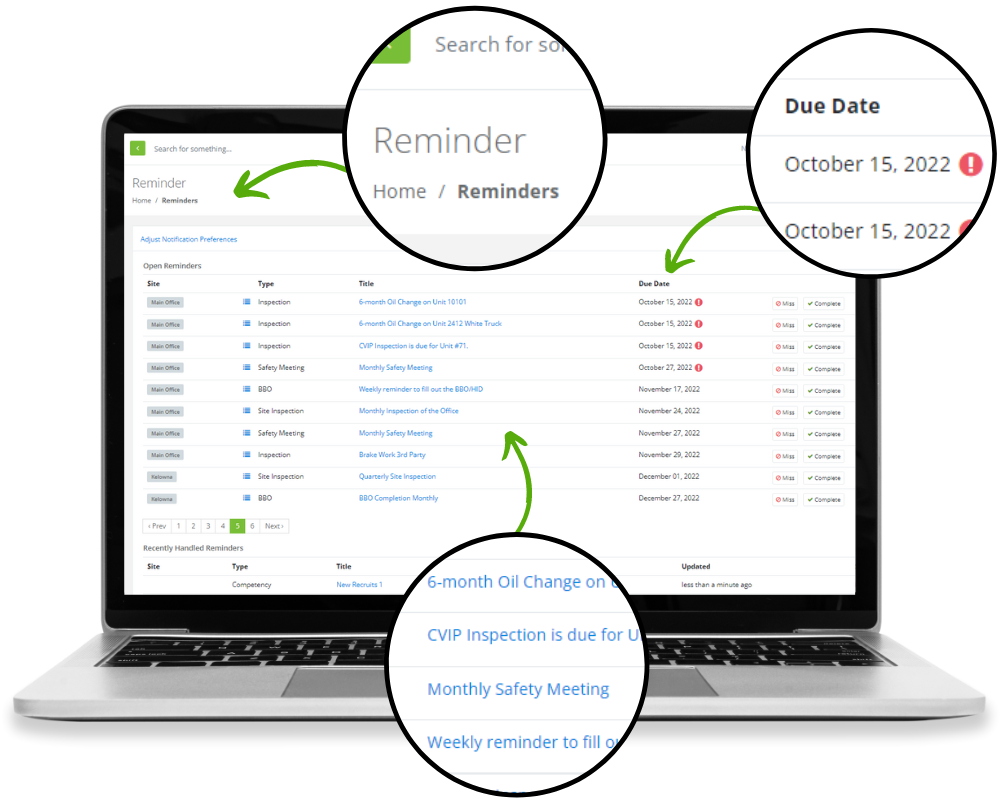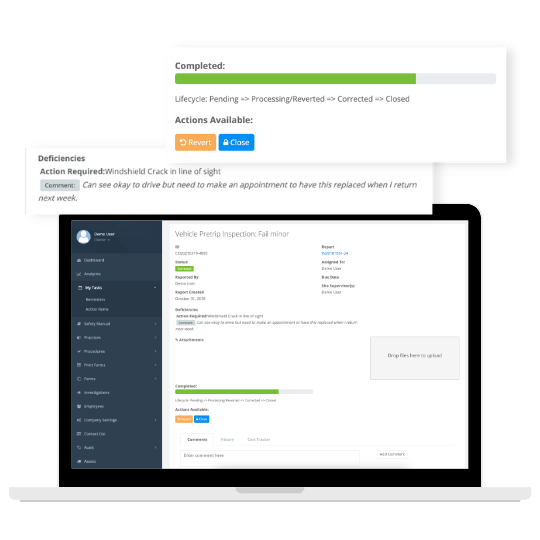 "Work Orders are lost, missed or incomplete because of missed paperwork"
Automated Workflows boost productivity.
As repairs, deficiencies or hazards are reported by workers in their safety forms, instant corrective actions/work orders are initiated for the site supervisors.
Review, record and manage your corrective action by assigning to workers, adding comments, documents, images, invoices, and tracking costs such as repair parts, preventative maintenance labour, equipment purchase, and more. All leading to repair cost reports in your Microsoft PowerBi Dashboard.
"Tired of the side of your desk being piled with paperwork?"
Forms are automatically filed and stored
As safety forms are created by your workforce, they are auto-uploaded into the web-based management dashboard.
Search by Site, Location, Employee, Asset, Date, Form Type and more. Never file another piece of paper again.
When it comes time for your audit, simply invite the auditor into the system using the auditor portal.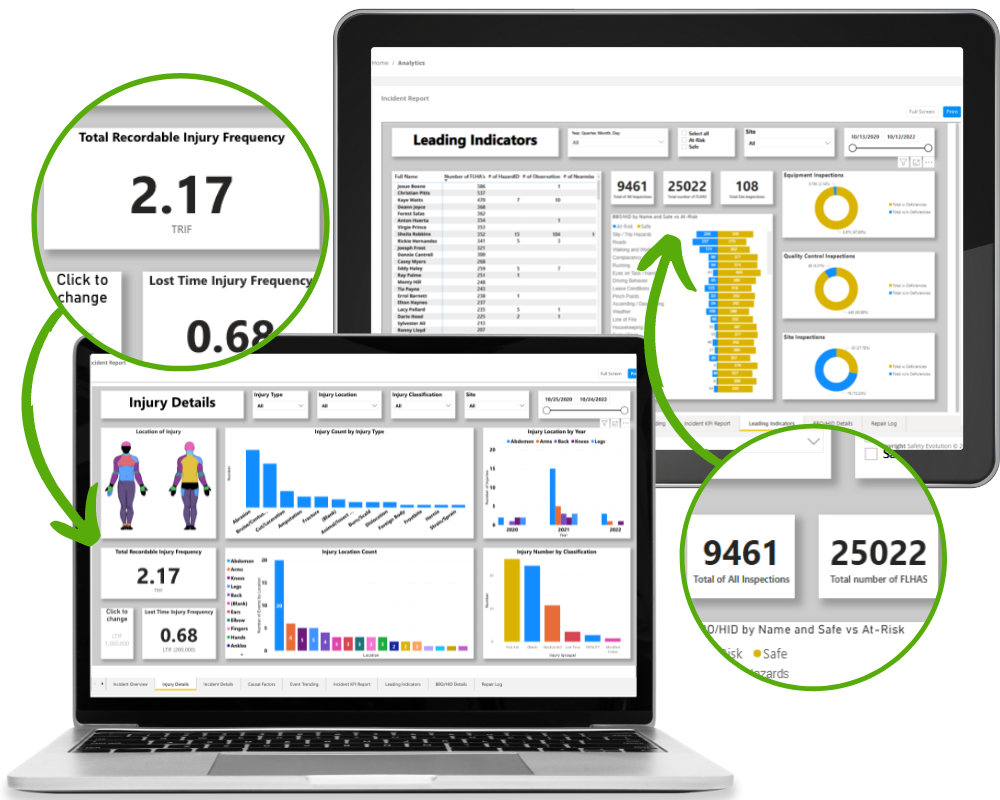 "What safety forms can I create with the Form Designer?"
Endless possibilities...
Fall Protection Plan, Confined Space Entry Permit, Hot Works Permit, Incident Report, Daily Lift Plan for Cranes, Critical Lift Plan, Working at Heights Permit, Electrical Safety Checklist for Temporary Work, Lock Out Tag Out (LOTO), ERP (Emergency Response Plan), Safety Meetings, Tailgate Meeting, Toolbox Meetings, Hazard ID, Near Miss Reports, BBS (Behavior Based Safety), BBO (Behaviour Based Observation), Pre-Trip Inspections, Post-Trip Inspections, Site Inspections, Daily Harness and Lanyard Inspection, Field Level Hazard Assessment, Field Level Risk Assessment, Respirator Pre-Use Inspection, Confined Space Entry Risk Assessment, Vehicle Checklist, Aerial Work Platform Daily Inspection, Backhoe Pre-Use Inspection, Excavator Pre Trip Inspection, Forklift Checklist, Scissor Lift Pre Use Inspection and many more.
FEATURES
Here's all the good stuff
Create Digital Safety Forms
20+ form elements make it easy to not only recreate your safety forms but enhance them.
Inspection Element
Effortlessly build Equipment inspections, site inspections, worker competency reports and more.
Action Item Element
Add to any of your safety forms to initiate corrective action workflows for follow up.
Task Risk Assessment Element
Create custom hazard assessments with the COR compliant element.
Safe / At Risk Element
Implement a BBS program with automatically collected analytics for leading indicators.
Videos, Photos, Links...
Add educational documentation to forms to better support your workforce.
Free Form Template Library
100+ pre-built forms are available to use or edit and make your own.
Scheduler
Schedule preventative maintenance work, safety meetings, daily docs and more.
Corrective Action Workflow
Corrective actions are triggered when the form is handed in, creating work orders for easy tracking.
Auto-filing and Storage
Forms are auto-uploaded to the Web App for searchability and follow-up.
TESTIMONIAL
What our customers say
"First thing I noticed was how easy and user-friendly Safety Evolution is. The foreman, even those who are not computer literate, find it easy to use and therefore they do use it. This is critical so that the foreman can complete their safety forms and get the crew organized for the workday. It allows us to review the documentation from the field in the office, which helps to plan your day. Knowing which sites are performing critical tasks and which are not. I started out knowing nothing about the system and quickly became very proficient with it. All our inquiries and any changes we have asked for have been completed quickly and efficiently. The customer support has been amazing to work with. They have provided tutorials to help educate staff to become even better at the product. I have used many safety applications but this one is the best that I have used by far."
LEARN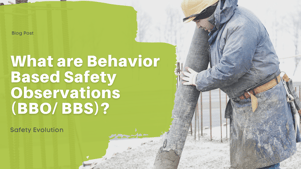 Have you attempted to implement a behavioral observation program and could not get buy-in from your team?
Free Package
Free Toolbox Talk Download Package.
Download all the toolbox talk topics you need for your next safety meetings including: Lockout Tagout / LOTO, Forklift, Fall Protection, PPE, Overhead Lines, Ladder Safety and more.