At the end of each calendar year, OSHA releases a valuable resource for EHS Professionals. Their report addresses the most common OSHA violations observed in the workplace and lists them in order of frequency.
Here's how EHS professionals can use this valuable resource. Cross-check with your company's EHS Management system to find weak links or infractions. Bring credible statistics to training or safety meetings. Direct your focus to ensure compliance with OSHA standards is maintained.
A key responsibility of the EHS Professional is reviewing the effectiveness of your company's EHS management system and identifying ways to improve. Take a look at the Top Five OSHA violations for the past year.
As we examine each in detail, you may recognize familiar problem areas.
Ask yourself:
Are any of these common trouble spots at your workplace?
Are the procedures you have in place coming up short?
Do the "weak links" in your EHS management system leave your company non-compliant with OSAH regulations, creating the potential for hefty fines?
Now it's time to take advantage of the OSHA Top Five Violations list to make the necessary changes!

Fall Protection Was The #1 OSHA Violation in 2022.
Does Your Company Have A Strong Fall Protection Plan?
It comes as no surprise that Fall Protection was the #1 OSHA violation for the 12th year in a row with 5260 violations in total. From year to year, falls remain the most common cause of workplace injury and work-related deaths.
The Fall Protection Plan is the key to establishing a consistent standard of safety when workers are in danger of falling from heights. A Fall Protection Plan provides a procedure and a formula that can be easily repeated. Encourage workers and supervisors to participate in the development of your company's plan.
Does building another safety component that requires recording, tracking and review seem daunting to you? Remember that an EHS Software product, such as ours at Safety Evolution, takes so much of the heavy lifting, form building and day-to-day monitoring off your hands.


So, let's get started! Consider these important points and include them in your Fall Protection Plan.
Hazard analysis and recognition - thorough analysis to identify potential fall hazards
Preventing the fall - use your Hierarchy of Controls to address fall prevention
Controlling the fall - personal fall arrest system
Written rescue plan - who is responsible and how will the rescue take place
Training employees - proper fall protection practices, equipment use and documentation
Inspections - equipment and site-specific fall hazards
Regular review and assessment - looking for ways to improve
As you develop your Fall Protection Plan, make fall protection an essential part of every stage of work.
Ready to get started?
Check out our blog on 6 Elements Of A Strong Fall Protection Plan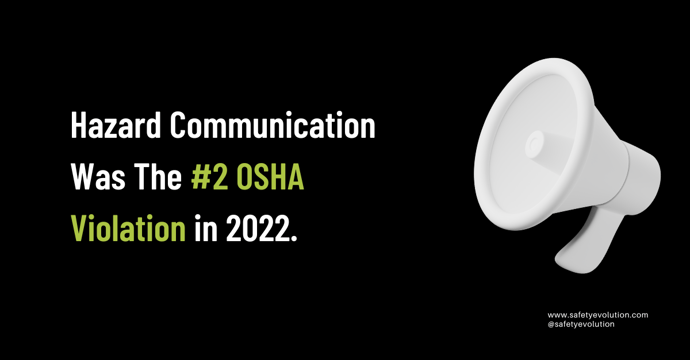 Hazard Communication Was The 2nd Highest Violation.
Does Your Safety Program Capture Proper Training & Communication Of Hazardous Substances?
Employers have the responsibility to communicate workplace hazards to their workers. Workers have the Right to Know! The second most frequent OSHA violation of 2,424; involves the lack of training and communication regarding hazardous substances. OSHA Standard 29 CFR 1910.1200
Are there hazardous chemicals used, produced or shipped at your workplace? If so, then you are required to have a written program in place to meet OSHA standards. Does your program capture the required training and communication of the hazards?
Let's take a look at the OSHA standard 1910.1200 to ensure your company is compliant. The intent of this OSHA standard is consistent with the Global Harmonized System (GHS), formerly WHMIS.
Lack of training - A written GHS training must identify the potential hazards and appropriate controls for each category of hazardous material. Include all of the following in your GHS training:
Hazard classifications and symbols- ensure your workers have a clear understanding of the hazards identified by the GHS symbols and the precautions associated with each one.
Labelling requirements - manufacturer's labels and workplace labels for decanted chemicals. What information must be included on each one?
Safety Data Sheets - What information do they contain. How to find them in the workplace?
Document and retain the proof of training.
Lack of communication - avoid this infraction by:
supplying standardized workplace labels for decanted chemicals,
posting GHS symbols charts in areas where hazardous substances are used or stored
review Safety Data Sheets when new products are introduced in the workplace or with new employees during training.
Training courses for GHS are readily available. In EHS software, like Safety Evolution, your workers are able to complete training from their own device. Third-party training is another option. Your company can also develop its own in-house GHS training.
Take advantage of the endless resources found on government and safety websites, to develop a compliant and easily understood Hazard Communication Program.

Respiratory Protection Was the 3rd Highest OSHA Violation in 2022.
Does Your Safety Program Have A Respiratory Code Of Practice?
Why do we need a Respiratory Code of Practice?
The effects of respiratory hazards caused by particles, chemicals, or biological agents vary from immediate to gradual. Respiratory hazards such as H2S produce damaging responses very quickly! Respiratory injuries and illnesses caused by prolonged exposure can be gradual, appearing over time. In 2022, there were 2,185 violations. Workers may dismiss or minimize the importance of respiratory protection if illness or injury is not immediately apparent.
To ensure workers are trained in the importance of consistent protection and to remain compliant with OSHA regulations, every EHS program should include a Respiratory Code of Practice.
When engineered or administrative controls cannot prevent workers from being exposed to chemical, physical or biological hazards associated with a hazardous atmosphere, specialized Personal Protective Equipment (PPE) for respiratory protection is used. This PPE comes in a wide variety of applications from simple dust masks to full face masks using supplied air.
How do we build a Code of Practice?
The Code of Practice governs the selection, use, care, and maintenance of respiratory equipment. Address each of these as they relate to your work scope and the hazards in your workplace.
Company Safety Policy - mandatory use of respiratory protection
Responsibilities - employer and worker responsibilities
Selection of Respiratory Equipment - determined by the atmospheric hazards
Training and use - Documented training for all workers required to use respiratory PPE
Care of Equipment - includes the inspection, cleaning, and storage of this specialized PPE
How does your Code of Practice work as a Safety Tool?
Clear guidelines set out in the Code of Practice ensure that your workers will consistently use mandatory respiratory protection
The Code of Practice is a readily available resource for refresher training and safety meetings
The Code of Practice sets the standard for determining controls when atmospheric hazards are present in the workplace.
Ready to get started?
Check out our blog on What Are The Requirements To Meet OSHA'S Respiratory Protection Standard?

Ladder Requirements Was The 4th Highest OSHA Violation In 2022.
Does Your Business Perform Competency Checks On Your New Workers?
It is not unusual to become complacent when using common-place equipment or tools. Ladders fall into this category! With 2,143 violations and from the rating being #4 in the OSHA violation list in 2022, we see that ladder use is a poor time for complacency! Ladders are, in fact, a major source of workplace injuries and fatalities.
Training your workers in the OSHA Ladder Standards is a great first step to reducing ladder incidents. But how do you ensure that complacency is not creeping in as workers use this familial equipment throughout their day?
How about a Competency Check?
Worker competencies for operating large equipment or tools or performing critical tasks are common in many workplaces. Conducting one for ladder use may never have crossed your mind.
The most effective method of monitoring ladder use is a short Competency Check, similar to a BBO. Build it out to identify the five or six of the most common OSHA infractions such as improper use of the top of step ladders and not having portable ladders extend 3 feet above the landing. Be sure to include the most common instances of ladder use complacency on your job site. Create an area for comments on your observations.
If you are using an EHS software, like Safety Evolution, this simple form can be filled out and saved in real-time from your device. With a paper-based system, keep a few on your clipboard. Engage the worker and have him/her sign off on the observations.
How can you use the Ladder Competency Check as a safety tool?
By using the Ladder Competency Check regularly, you are collecting valuable data for ongoing worker training, safety meetings, and positive input for your company's Safety rewards program.
The Ladder Competency Check is a great tool for reducing OSHA ladder infractions and ensuring ladder complacency is a thing of the past!
And last, but certainly not least, fewer ladder infractions lead to fewer ladder-related incidents and injuries! A win-win!
Ready to get started?
Check out our blog on What Are The OSHA Requirements For Ladders & Stairways?

Scaffold Requirements Was The 5th Highest OSHA Violation.

Does Your Company Use OSHA Compliant Scaffolding Checklists?

Let's take a closer look at the most frequent OHSA violations regarding scaffolds. What tools will help your company ensure compliance? If you aren't using a compliance checklist, try out this simple and effective tool. It's a one-time build that will serve you well every day! Building a checklist brings each area of potential violation into focus. It sets the specifics in a point-by-point format so that nothing is missed.

For each of the five violations below, review the OSHA standard as they apply to your worksite.
The highest-ranking scaffold violation might surprise you. It involves the lack of fall protection while working from an aerial lift, which includes a scaffold. Ensure workers wear a body belt and attach their lanyard to the boom or basket.

OSHA standard 1926.453(b)(2)(v)

Protecting anyone working 10 feet above a lower level by using fall protection, such as guardrails or fall arrest systems, ranks second in the most common violation. Special attention should be given to guardrails and the anchoring of fall arrest equipment

OSHA standard 1926.451(g)(1)

Providing safe access above 2 feet that avoids workers climbing across braces to reach the scaffold platform. OSHA Standard 451(e)(1) Address the positioning and surface of ladders and stairways.

The working surface of a scaffold must be full planking between guardrail platforms and the front uprights. OSHA standard .454(b)(1). When there are gaps in the planking the risk of trip hazards increases.

All workers using the scaffold must be trained in scaffold hazard recognition and controls. OSHA

Standard

126.454(a)

.

Be sure to include the capacity of the scaffold, how to handle materials on the scaffold, and the general use of the scaffold in your checklist.
In 2022, there were 2,058 Scaffolding Violations. You can build this Compliance checklist into your inspection forms in your EHS Software or in a paper form. The checklist will keep your worksite free from scaffolding infractions and also work as a great tool for identifying scaffold hazards or content for safety meetings.
Ready to get started?
Check out our blog on What are the OSHA Requirements for Scaffolding & Best Practices?
Key Take-Aways:
Taking a closer look at your EHS system can help you avoid OSHA infractions and keep make the workplace safer.
Resources:
https://www.osha.gov/fall-protection
https://www.osha.gov/laws-regs/regulations/standardnumber/1910/1910.134
https://www.osha.gov/laws-regs/regulations/standardnumber/1926/1926.1053
https://www.osha.gov/laws-regs/regulations/standardnumber/1926/1926.451
https://www.osha.gov/laws-regs/regulations/standardnumber/1910/1910.1200
Check Out Our Demo On Demand to learn how we help companies stay ahead with their safety program!
Subscribe to the below for more weekly content digging into all things Health and Safety!