Incident Reporting & Investigations System
Incidents Are Stressful, Investigations Shouldn't Be.
Safety Evolution provides you with a guided and easy-to-use investigation system that starts by collecting event data from the field, notifying the team, and providing you with the tools to complete your industry-leading investigation.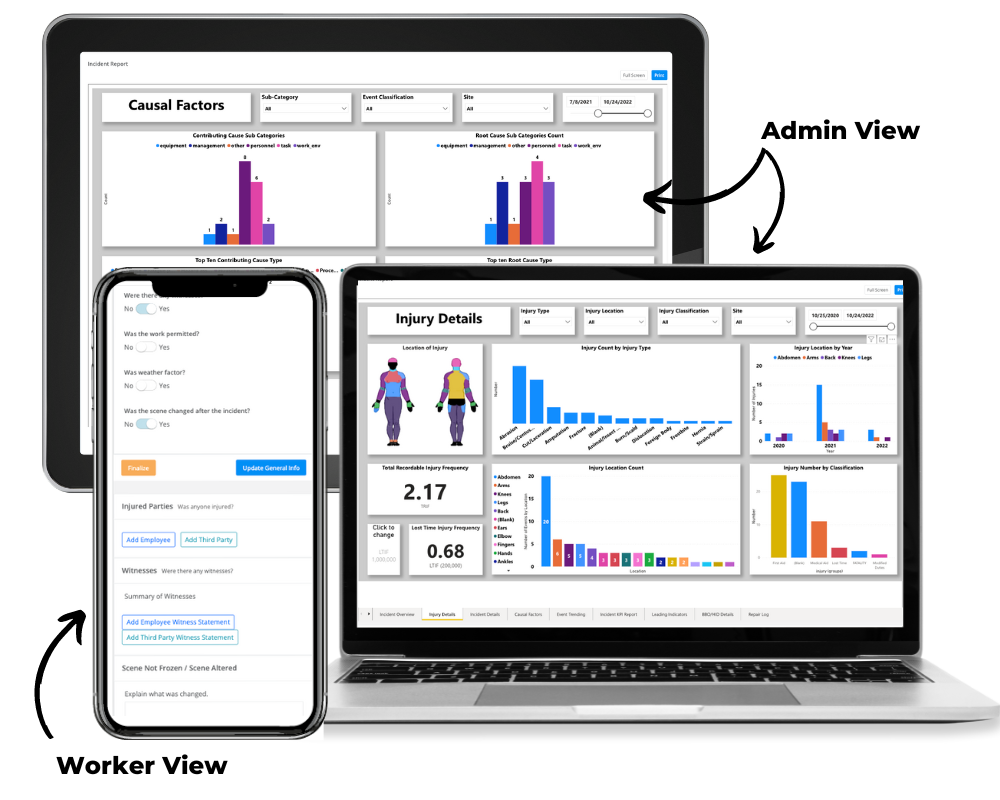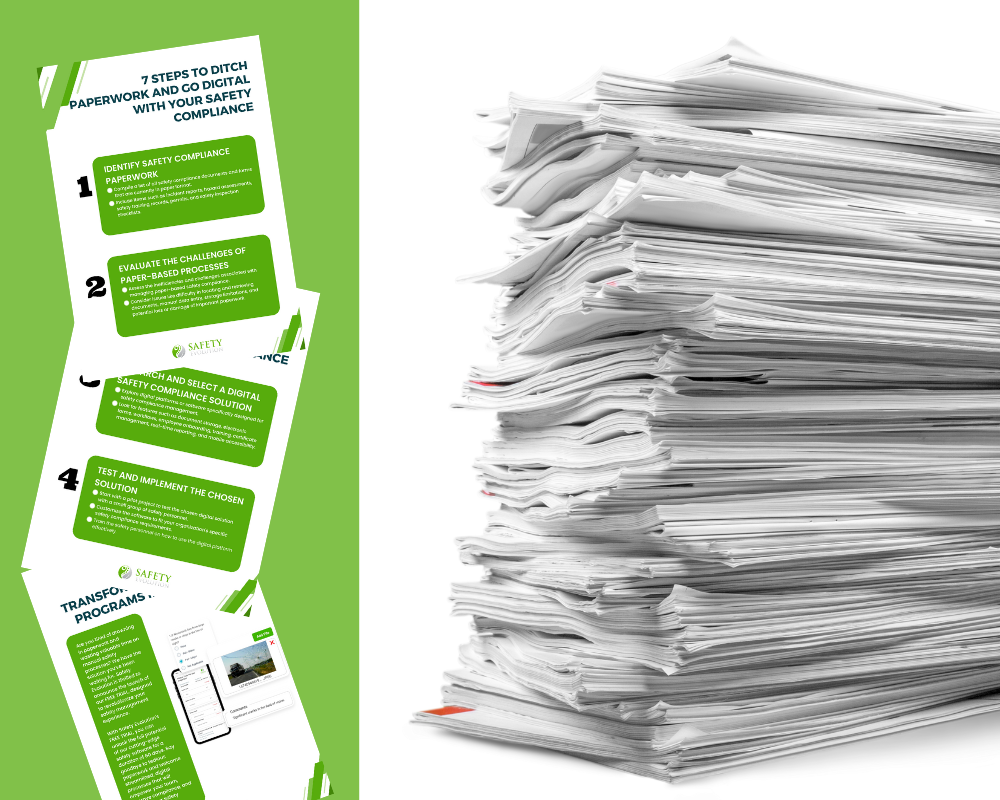 Free Guide
Ditch Paperwork and Go Digital!
Discover the roadmap to a digital transformation of your safety compliance regime in just 7 crucial steps!
Just follow the steps, and we assure you a simplified safety management landscape saving countless hours and increasing operational efficiency. It's time to go digital! Secure your checklist now and kickstart your journey!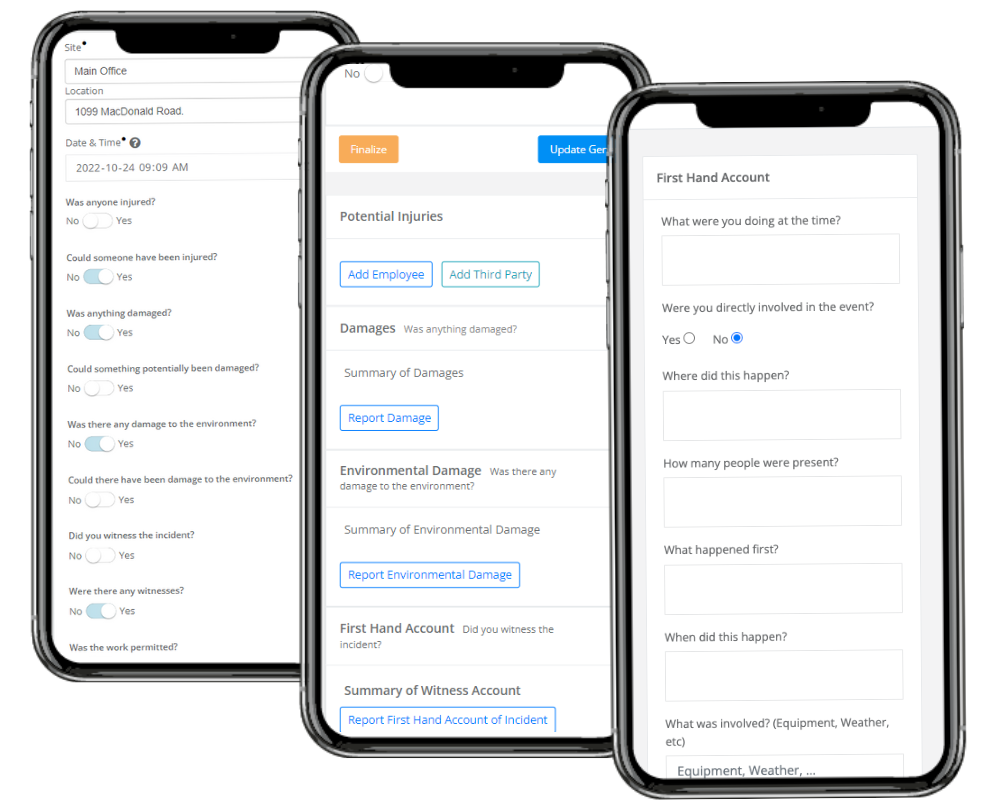 "My workers don't have access to report incidents..."
Workers can report incidents and near misses 24/7.
Workers are guided as they complete their event report by interview-style questions. As they toggle on answers to questions such as "were there any witnesses?" more in-depth questions are asked to ensure a full report. Incident Reporters can capture date, time, location, witness statements, property damage, environmental damage, weather factors, work permits, scene changes, and more. Link Injuries to the body part(s) and upload relevant photos and documents.
"The Incident Report is missing critical information required to perform an Investigation."
Instant incident notification to HSE Managers.
From the moment an Incident Report is started, an Early Incident Notification goes out to the Manager(s) of whom you want to be notified. Managers can view the report in real-time as it is being filled out and Modify it for more details after. Eliminate Witness statements that are incomplete and require hours of follow-up and interviews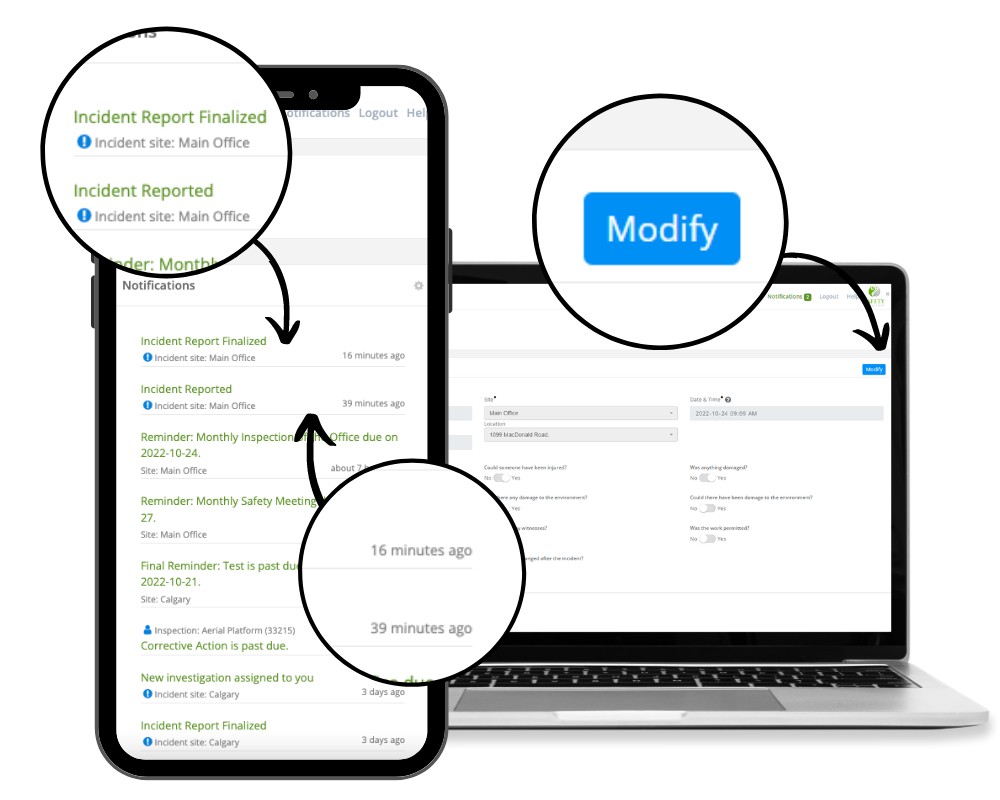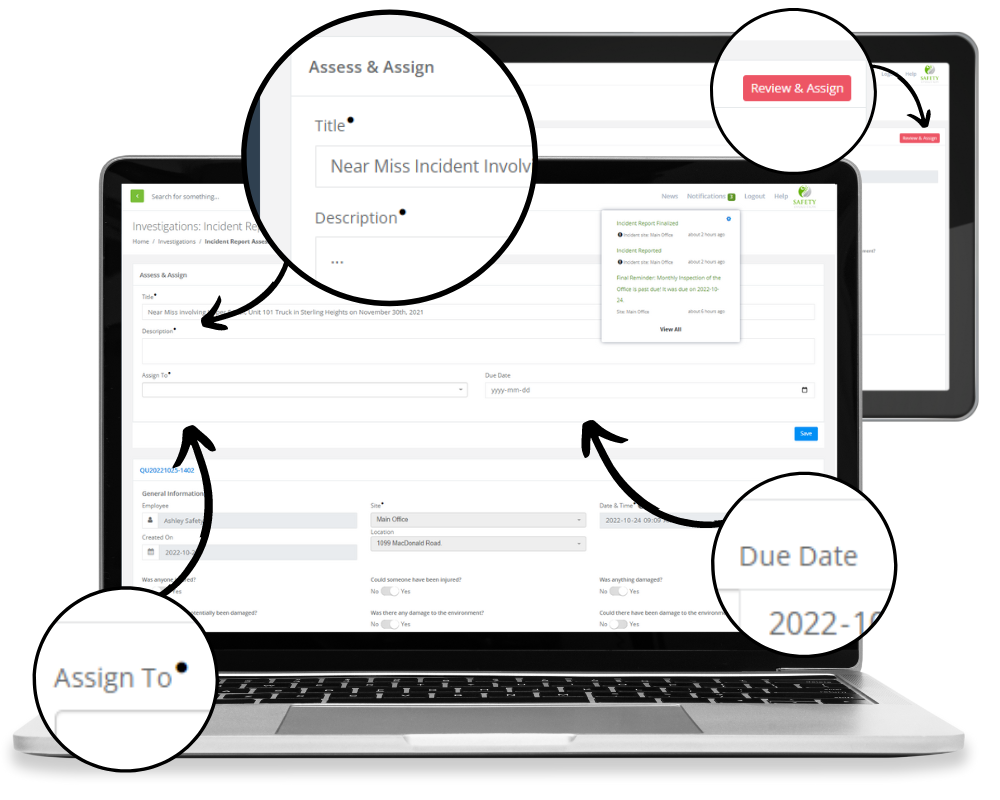 "HSE Managers wait

weeks

to complete investigations because they are missing critical details..."
Instantly review Incident Reports and assign Investigations to management.
Incident Reports are handed in with all critical information from the field. Managers can review the incident report and assign it to an investigator with due dates, a title, and a description for searchability down the road. From this moment on, everything for the investigation is gathered in one place and updates are tracked in the change log.
"Investigations miss the root cause of the event and incidents repeat on a regular basis."
Drill down to the Root Cause through the Investigation Tool.
The Investigator can start their investigation by narrowing down the contact type and measuring the potential and actual risk. Add primary and secondary classification types and document event details. Drill down with our checklist of 100+ contributing and root causal factors. Best of all, link supporting documents from the system that are associated with the incident or upload more information that becomes available (witness statements, doctor's reports, OSHA correspondence).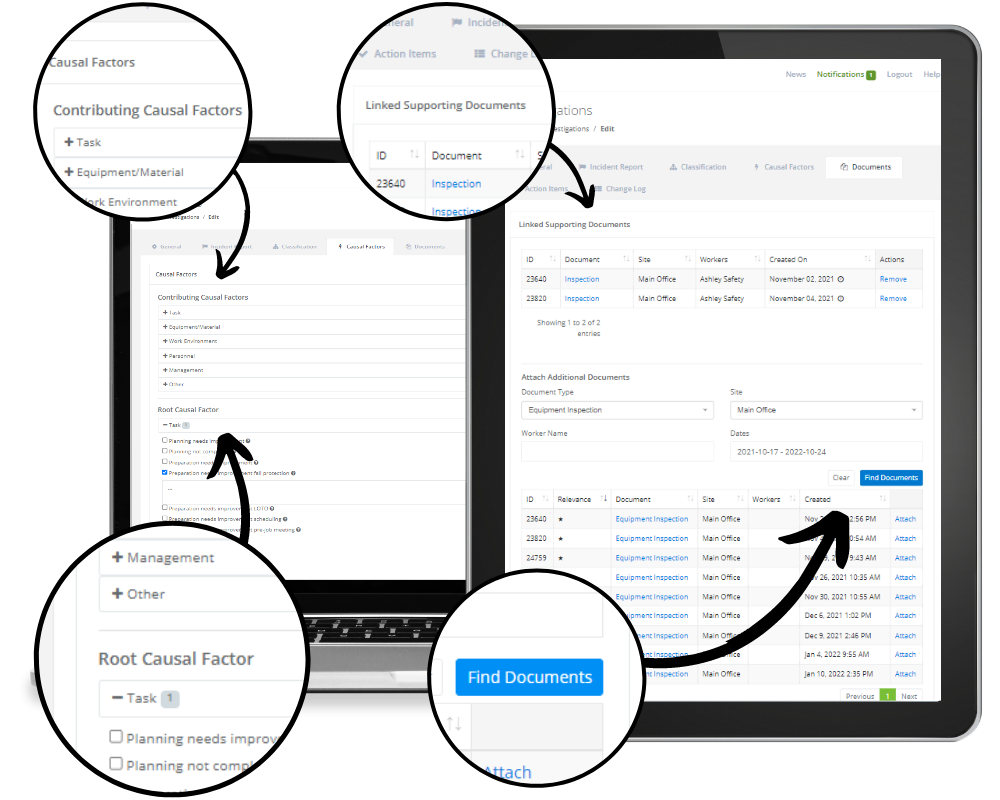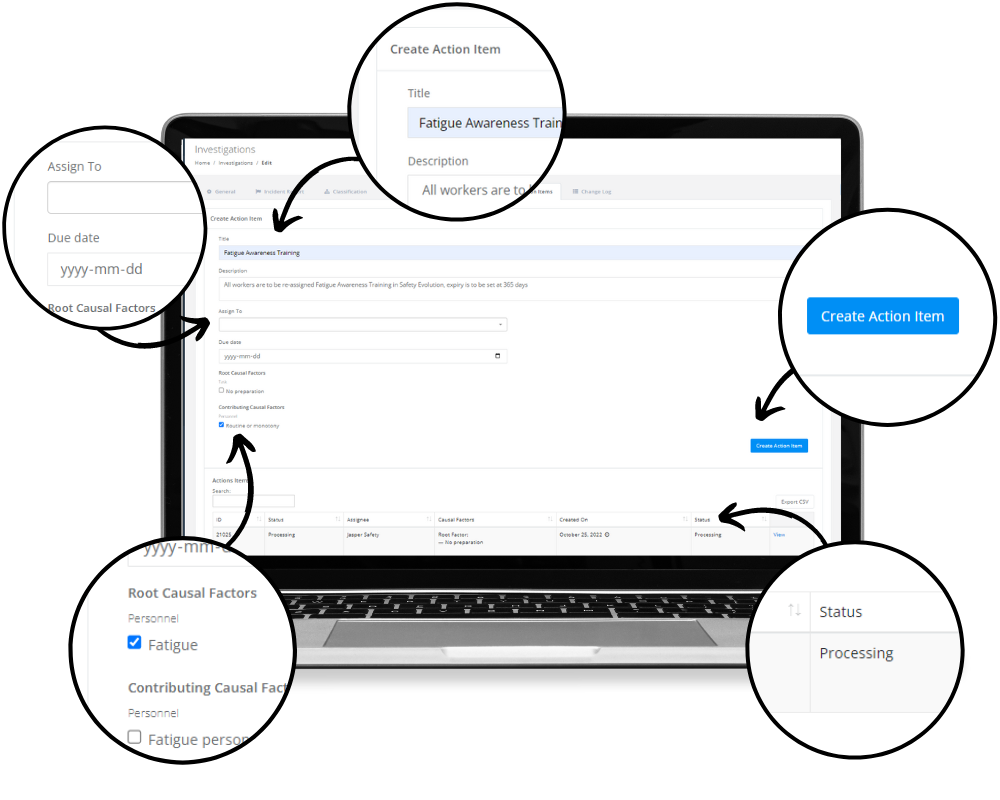 "I'm spending hours trying to find proof that incident action items were completed for our client audit..."
Create, track and assign Action Items in minutes.
Take your Causal Factors and turn them into Action Items for your team. Create Titles, Descriptions, and due dates for each action item and assign them for completion. Easily track progress from within the Investigation tool as updates happen. For those long-term Action Items, never lose sight of these with Notifications of Past Due.
"I need to have an initial Incident Report out within 24 hours!"
Share your Investigation at any time with the most up-to-date information.
Investigators can pull a summary of the incident investigation report and change log at any time to share. Everything input into the investigation tool is updated in real-time.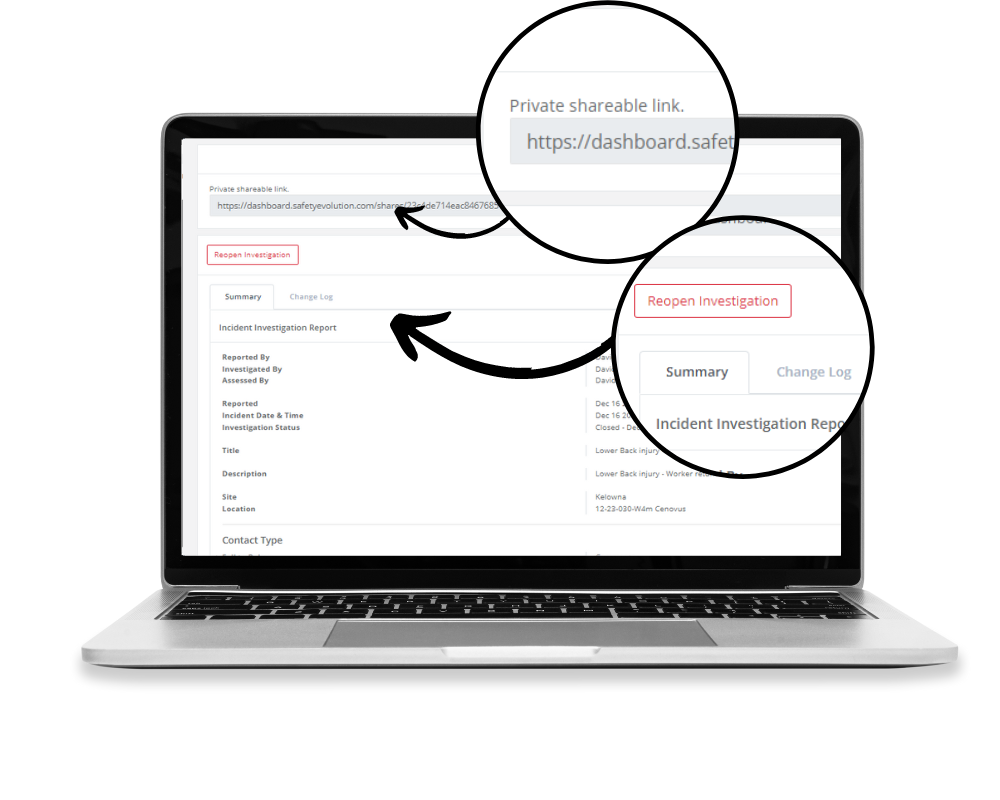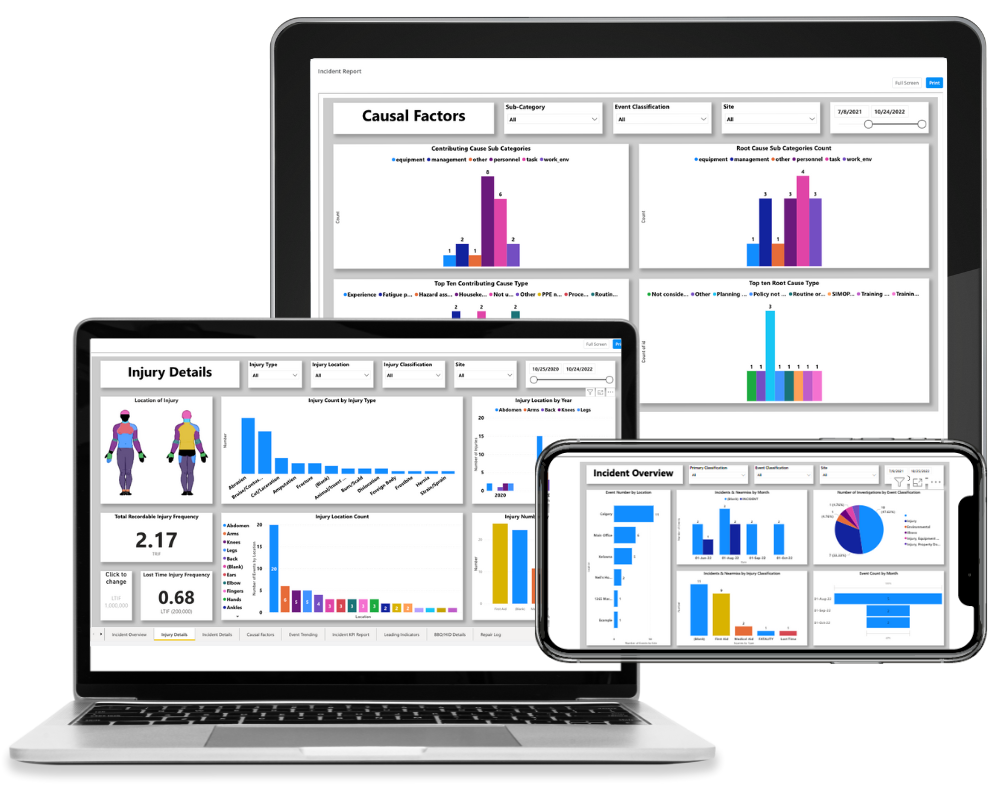 "I wish I had data on my Investigations to help reduce incident rates and give better insight into trends. "
Your incident and investigation data produces Microsoft Power BI Analytics.
Time for the best part... your incident & investigation data is automatically compiled into analytics that is collected in your Microsoft PowerBi-driven dashboard. Giving your company the power to drill down to understand the trends and get ahead of the next event. Microsoft PowerBi Dashboards include Incident Overview, Injury Details, Incident Details, Causal Factors, Event Trending, and Incident KPI Report.
"I am struggling to calculate TRIF/TRIR...I need the most up-to-date calculation of LTIF"
Your TRIF/TRIR & LTIF are calculated and updated daily.
By using the Investigation tool, your company's total recordable incident frequency / total recordable incident rate and lost time injury frequency rate will always be available. Drill down on appropriate rolling averages to evaluate performance after the launch of a safety initiative, leadership change, etc.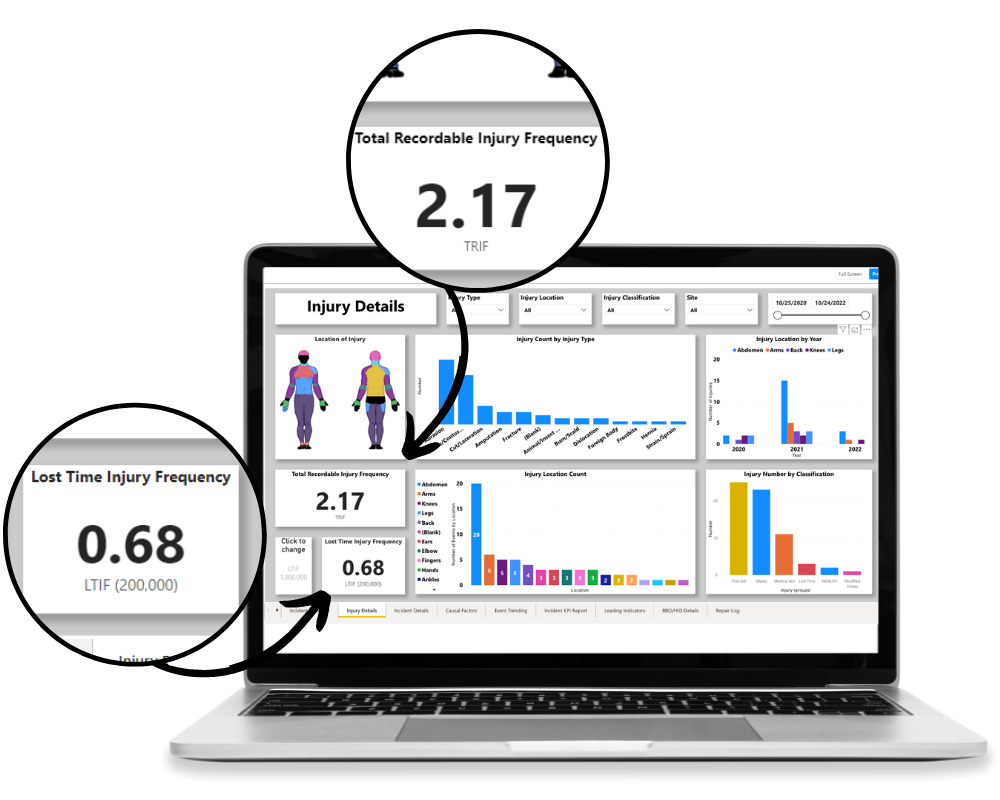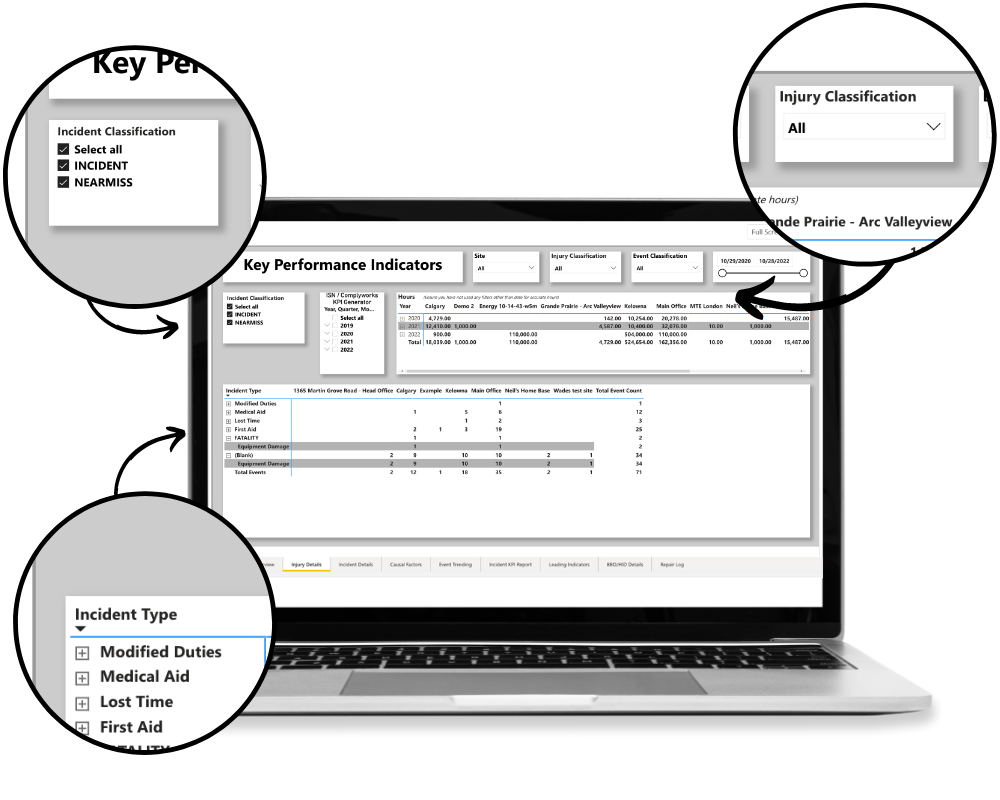 "I need to submit my ISNetworld, ComplyWorks, Avetta KPIs."
Safety KPIs are compiled and available in your Microsoft PowerBi Dashboard.
Contractor management KPIs are always up to date and ready to be entered into your contractor management portals. Filter by year, quarter, client, incident type, and event classification. No matter what key performance indicator they require, you have the data.
FEATURES
15 Powerful Features To Assist Your Incidents & Investigations.
Access & Reporting
Your workforce has 24/7 access to incident & near miss reports.
Early Incident Notification
Allow managers to know the exact moment an incident or near miss report has been started.
Title & Description for Searchability
Give your investigation a title and description to expand your search database.
Assign Investigator
Assign an Investigator to be responsible for the investigation and log their updates.
Change Log
All updates, edits, and revisions are tracked in the change log and viewable by management.
Contact Type
Establish the contact type and measure the potential and actual risk.
Classification
Add primary and secondary classifications and document event details.
Causal Factors
Drill down with our checklist of 100+ contributing and root causal factors.
Link Support Documents
Search the system for relevant documents to attach or upload external support docs.
Action Items
Create, track and assign action items from casual factors with due dates.
Live Summary Report
Share a summary report of the incident report and investigation at any time through a private link or downloadable PDF.
Microsoft PowerBi Analytics
Microsoft PowerBi Dashboards collect details on incident overviews, injury details, incident details, causal factors, event trends, and KPIs.
TRIF
TRIF/TRIR is calculated and updated daily.
LTIF
LTIF is calculated and updated daily.
ISN / ComplyWorks / Avetta KPIs
Contractor management KPIs are always up to date and ready.
TESTIMONIALS
What our customers say
"One thing that makes me the happiest is the service and support. As soon as you need something it is done, and fast. With other safety management companies I have worked with- you were lucky if you got a callback, and when I needed something it happened very slowly- if at all."
"Safety Evolution worked tirelessly to create an entire safety system catered to my business by my deadline, and they have always continued this same level of support. I would recommend Safety Evolution to anyone who has a need for a high-level, state of the art, safety system. They will not disappoint you."
"Safety Evolution Software was the tool we needed to unify our safety program and have a more manageable system. The team at Safety Evolution goes above and beyond and is always available to answer questions, fix problems, and walk you through the tools that you are learning to use."
LEARN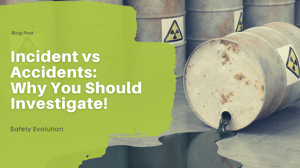 "Accident" or "Incident"? You may have heard these terms used interchangeably at your workplace...
FREE GUIDE
The 7 Steps to a World-Class Incident Investigation
Get our free guide to help with your workplace Incidents & Investigations. Also includes templates for Incident Reports, Investigations, Root Cause Analysis & Corrective Action Plans.