We all get a little stressed when our work is going to be inspected. But, when you are responsible for something as important as ensuring that the Safety Program will pass your governing body's audit, it can take your stress levels into overdrive.
The good news is, there are a few solid focus areas to manage the stress and pressure of it all. The goal should is to get prepped and stay prepped.
If you follow these basic steps, you will find you spend less time at the end of the year preparing for your audit and have more time to ensure your team is safe and operating at its peak efficiency.
I have worked in safety for many years, both in my own business as well as an HSE manager in others'. My first experience with audits was preparing for an external COR audit. We passed, but it was all hands on deck to make sure everything was there and organized. As a Safety Professional, I took auditor training and spent a good amount of time auditing and reviewing the company's programs for compliances before they were allowed to work on the site.
I know first-hand how many things can be missed because there is just so much for the safety team to do and stay on top of on a daily basis. When I am asked for tips from companies I always suggest they follow these strategies to help them be better prepared.
The three places to focus on are:
People
Paperwork
Process
People:
Start with your people. They are the ones that are going to actually have the most impact on the success of your program.
Your people fill out your paperwork, they will be answering interview questions and they are going to be responsible for the day-to-day implementation of the program.
Prepare your team all year round for interviews. This doesn't mean going out and talking to them about the interview process and what to expect. This means that the information that they are required to know for your safety program to be successful is being communicated to them on a regular basis. We need to be talking about our worker's rights, responsibilities, and company expectations so regularly that everyone knows this inside and out.
Remember you aren't aiming to have them prepped to pass an interview, you are ensuring they have the skills and knowledge to answer any reasonable safety question asked of them because they have a right to know. Knowledgeable workers pass audits.
Paperwork:
Give them the tools so that they can implement the program as easily as possible. We want to move our people away from is feeling like the Safety Program is just another job, to see the Safety Program as a tool that they use to help them be successful.
Start by making sure they are trained in how to complete safety documentation as well as why we have each document. This will greatly improve your score when you have to show compliance in the audit. The right documents given safety smart workers are how you give them the right tools.
Companies spend a huge amount of money and time preparing for their audits as they have to sift through their enormous stockpiles of paperwork to verify it is done correctly, sign off, and file it for the audit. Not only is this a massive resource drain, but it is also having zero impact on safer workplaces if it is done week or months after the paperwork was completed.
Switching to a Safety Management Software, like Safety Evolution as soon as possible, is hands down the easiest place you can make changes that will set you up for success.
It will allow you to see your safety documents in real-time, you never have to file them again and best of all when the auditor wants to see them they can just log in and everything is right there. You will know the documents your workers are submitting are compliant because you can see them the moment they are started.
Process:
The final step is to focus on the processes that your governing body requires your company to have to pass the audit. This could include investigations, corrective actions, hazard assessments, inspections, training, and competencies.
The more complicated the process, the more difficult it is to train. What can you do to simplify the process and work required to implement, run and document compliance? Look at your processes and ask yourself:
"Is there a way I could make this more simple
without sacrificing quality?"
Each of these programs will take dedicated time each week/month to ensure that they are operating correctly. Set up a block of time that you commit to every week to perform these duties. Create a checklist of what needs to be done so that you don't miss anything. Set reminders for your team to help them remember when they will need to complete different tasks.
If you are managing a paper safety management system, then be upfront and realistic to your management team that paper systems take a very significant amount of time to run. If they want to get you to move faster and/or budget less to administrative labour, then they will need to consider going paperless. You can use this as a great negotiating tool to get approval for the transition to software.
We polled 265 safety professionals on LinkedIn and 46% spent over 12 hours a week completing the required safety paperwork and administrative duties required to keep their safety programs running properly.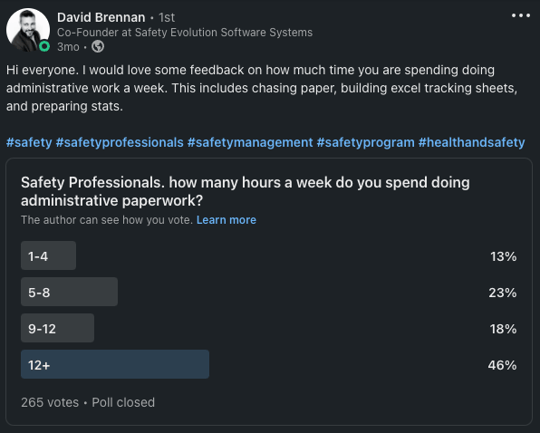 Automating safety processes and the administrative workload required to implement them will be a huge saving for your company. This is another advantage of moving to safety management software.
Let's do some Myth Busting:
"There will always be a mad dash in the weeks leading up to a safety audit to
dot the i's and cross the t's on paperwork."
Preparing for your Audit is not something you should be leaving until the month or weeks before it will happen. If you are implementing your safety program year-round and keeping on top of it you will be ready for your audit any day and any time.
So what now?
Jump on a call with one of our team so they can help you with a free safety assessment. We can show you all kinds of cool strategies that will set you up for success with your next audit.