It is not unusual to become complacent when using common-place equipment or tools. Ladders fall into this category and ladder use is a poor time for complacency! Ladders are, in fact, a major source of workplace injuries and fatalities. The Top OSHA Violations for 2021 names ladder and stairway violations in #4 place.
Before we dig into how your worksite may be non-compliant with OSHA Ladder Standards, let's take a closer look at what causes ladders and even stairways to have so much potential for workplace injury.
Top 5 Ladder Hazards & Prevention
Surprisingly, the most common cause of ladder-related injuries is human error, not the failure of a ladder's structure or integrity. It's the little "miss-steps" and the "just a couple inches more" that catch a worker in the worst way!
Here are 5 of the most common causes of ladder incidents & how to prevent them:
Missing the last step when climbing down - Always exercise caution when descending a ladder. Don't skip steps, especially the last one!
Overreaching - Keep your body between the side rails. Climbing down to move the ladder into a better position could save you big time!
Using the wrong ladder - When choosing a ladder length, think about your reach height, which is approximately four feet higher than the height of the ladder. Selecting a ladder that is too short often results in "creative" and unsafe methods of reaching the work area.
The ladder is not on firm ground - Take the time to clear the area around the base of the ladder. Make sure the base is secure to avoid accidental movement. Remember, being rushed or complacent can be a recipe for disaster!
Three-point contact not used - When climbing a ladder always make sure that two hands and a foot, or two feet and a hand are in contact with the ladder at all times.
Top Stairway Hazards & Prevention
Temporary and permanent stairway incidents share common causes and precautions. Stairways are less common on worksites than ladders but still pose a significant risk for injury due to falls. The National Safety Council of Canada ranks stairways as the cause of injuries second only to motor vehicle accidents!
Here are the common hazards that cause falls from stairways and how to prevent them:
Poor design, construction, and maintenance of stairs - Stairways on a construction site or other workplace can't be thrown together just because they are temporary. Ensure stairways meet code requirements at all times.
Handrails - Either they don't exist or their design is not functional. Make sure handrails are well secured and can be easily reached during both ascent and descent of the stairs.
Poor lighting - Lighting is crucial to the safe use of stairways. Ensure adequate lighting is in place, especially for temporary stairs. The single "trouble light" dangling from an extension cord probably won't cut it!
Poor tread surface - Stairways that are exposed to the elements can quickly become slipping hazards. Keep stairways clear of ice, snow, and debris. Never pile material near the top or bottom of stairs.
OSHA's General Requirements For Ladders & Stairways
The OSHA General Requirements (29 CFR 1926.1050-1060) deal mainly with when and where ladders or stairs are required. A ladder or stairway must be provided when the worksite has a break in elevation of 19" (48cm) or more and there is no runway, ramp, embankment, or personal hoist for workers' access. The importance of keeping the access point clear of obstacles is also addressed in the general standards. The standard does not apply to scaffold access ladders but does apply to all manufactured or job-made ladders meant for general purpose use.
OSHA Rules for Ladders expands on the list of causes and preventions addressed in the introduction. Here are some of the fine points that will keep your workers safe and your site OSHA compliant.
Securing Ladders:
Ladders must be secured when being used on surfaces that are not stable.
Use slip-resistant feet in addition to care in the placement, lashing or holding of the ladder to prevent accidental movement.
When ladders must be placed in areas of high traffic or activity, secure the ladder or use barricades to prevent unexpected contact.
Keep areas clear around the top and bottom of the ladder.
Never move or extend a ladder while in use.
Condition of Treads:
Keep the treads clear of grease, ice, and debris.
Wood ladders cannot be painted or covered with opaque covering other than information or warning labels along one face of the side rail.
Ensure the rungs, cleats, and steps are parallel, evenly spaced, and level when a ladder is positioned for use.
The OSHA ladder standards guide clearly defines the spread of rungs for portable and fixed ladders as well as for extension trestle ladders. This link will take you to the necessary information for your ladder type.

https://www.osha.gov/sites/default/files/publications/osha3124.pdf

,
Extending the Working Height:
When a worksite requires two or more ladders are required to reach an elevated work area, they must be offset with a landing between the ladders (unless portable ladders are used for access to fixed ladders).
NEVER tie or fasten ladders together to create a longer ladder! ( this is apparently a THING, so EHS professionals, feel free to shake your heads and roll your eyes in disbelief!)
Loads, Overloads, & Safe Use:
Only use a ladder for its designated purpose.
Ensure that ladders are not loaded beyond the manufacturer's intended maximum capacity.
Face the ladder and use three-point contact when climbing or descending.
Don't carry loads that could cause a loss of balance.
Ensure ladders have non-conductive sides when there is a possibility they could come in contact with exposed electrical equipment.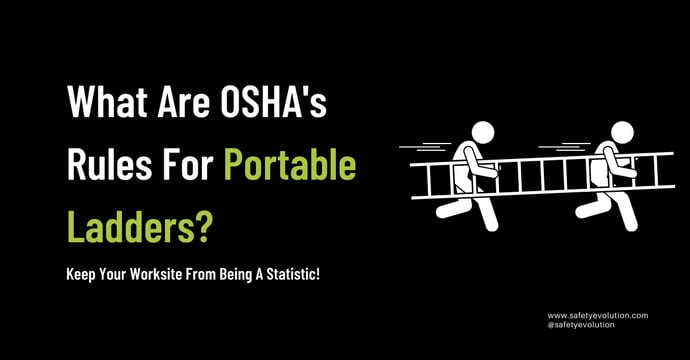 What Are OSHA's Rules For Portable Ladders
Portable ladders can be moved as needed in the workplace and include stepladders and extension ladders as well as job-built ladders. The general OSHA rules apply to these ladders. Let's take a look at what OSHA requires as additional rules for portable ladders.
Stepladders:
The top of the ladder is never to be used as a step.
Unless the stepladder is designed for climbing on both sides, never use the cross braces on the rear section for climbing.
When open, the stepladder must have locking devices in place to keep the sections open when in use
Stepladders longer than 20' shall not be used
Portable Ladders:
There must be a minimum clearance of 11.5" (29cm) between the side rails for all portable ladders.
Single portable ladders longer than 30' shall not be used and extension ladders longer than 60' shall not be used.
The rungs of portable metal ladders must be corrugated, dimpled, or coated with skid-resistant material to ensure the risk of slipping is minimal.
Self-supporting and non-self-supporting must support at least four times the maximum intended load.
Ladders used for roof access must extend at least 3' above the roof when the roof provided support for stepping off the ladder.
Ladders must never be used horizontally to act as work platforms or scaffolds
To determine the safe placement of a portable ladder, the base of the ladder should be placed one foot away from the building for every four feet of height to where the ladder rests against the building


Last but not least, always inspect your ladder before use. Never use a defective ladder!
What Are OSHA's Rules For Fixed Ladders
Fixed ladders have their own set of rules and are frequently used in situations that would not be suitable for portable ladders.
When a fixed ladder has a total length of climb equal to or exceeding 24' (7.3m) it must be equipped with

ladder safety devices.
or self-retracting lifelines and rest platforms at intervals not to exceed 150' (45.7m).
or a cage or well and multiple ladder sections with each ladder section not to exceed50' (15.2m).

Fixed ladders must be able to support at least two loads of 250lb (114kg) each between two consecutive attachments. Each rung of the ladder must be able to support 250lb in the middle of the rung.
The minimum clearance distance between the side rails of a fixed ladder must be 16" (41cm)
The step-across distance from the center of the rungs to the nearest edge landing must be 7" (18cm) at a minimum and no more than 12" (30cm). When the distance is over 12", a landing platform must be in place.
The minimum perpendicular distance from the ladder rung to any obstruction behind must be 7" (18cm) and any obstruction on the climbing side must be a minimum of 30" (76cm) away from the ladder rungs. This distance may be reduced when a deflective device is required to pass workers safely around obstructions.
OSHA has extensive requirements regarding cages, wells, safety devices, and lifelines for fixed ladders as well as the requirements for mounting ladder safety devices. This information can be found in the OSHA Ladder Standard publication:
https://www.osha.gov/sites/default/files/publications/osha3124.pdf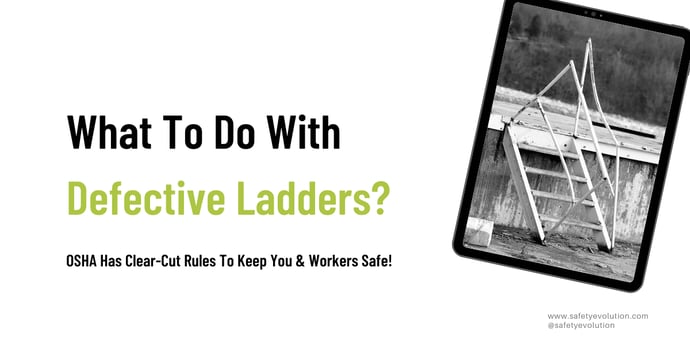 What To Do With Defective Ladders?
A pre-use inspection of tools and equipment is a fundamental safety rule. So what do you do when your ladder is defective?
OSHA has clear-cut rules to keep you and workers safe!
Portable ladders with defects, such as missing or broken rungs or corroded components, must be tagged "Do Not Use" and removed from service until repaired.
Any repairs made to defective ladders must restore the ladder to the original design criteria before the ladder can be put back in use.

What Are OSHA Rules For Stairways?
We mentioned earlier that falls on stairways cause high numbers of injuries and fatalities every year. The OSHA rules which deal with stairways are a valuable tool for EHS professionals. Let's look at some of the ways we can keep workers safe from the risks associated with stairways.
Staircases that will not remain as part of the building being constructed must have landings that are at least 30" deep and 22" wide ( 76x56cm) for every 12' ( 3.7m) of vertical rise.
Must be installed at least 30 degrees, and no more than 50 degrees, from the horizontal
Risers and stair treads must maintain a consistent depth with variations in height not to exceed ¼ inch
When a door or gate opens onto a stairway, there must be a platform that extends 20" (51 cm) beyond the swing of the gate or door.
Ensure that stairways are free of slippery conditions and protruding nails or other projections.
Do not use stairways with metal pan landings and treads when the treads and/or landing are not filled with concrete or other materials. All treads and landings must be replaced once they are worn below the top edge of the pan.
Stairways must always have hand support
Provide stair rails and handrails that comply with OSHA standards. Detailed information regarding acceptable heights and measurements can be found in the OSHA publication " Stairways and Ladders - A Guide to OSHA Rules" for which we have provided the link.
Take the time to assess any stairways in your workplace or job site. Make sure they have the structure and safeguards to keep your workers safe. And to keep your worksite from being a statistic in the #4 OSHA violations!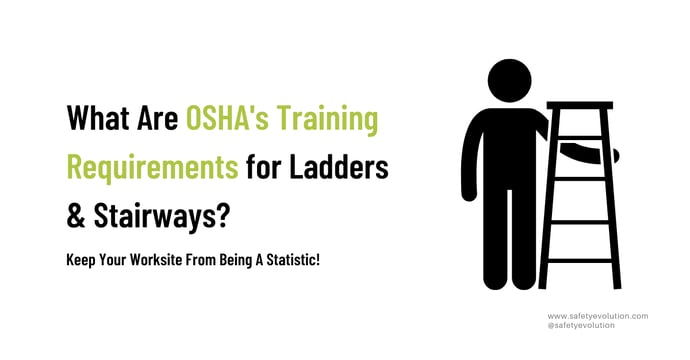 What Are OSHA's Training Requirements?
Keeping your workers from becoming complacent when working with ladders and on stairways is always a challenge. Ongoing training is a must!
New workers and those new to the worksite should be trained in the basics:
What are the fall hazards in the workplace?
The correct procedure for erecting, maintaining and taking down the fall protection to be used
Proper construction, maintenance and use of stairways and ladders
How to determine the load capacity of ladders and how to ensure loads fall within an acceptable range.


As with all training, ongoing assessment and review are vital. Conduct BBOs to observe workers using ladders. Commend safe practices and look for areas that may require additional re-training. Expand your "ladder and stairway" training to include a good look at complacency during a toolbox or safety meeting.
Remember, conditions at the job site can change rapidly due to weather, the arrival of other trades, or new equipment on site. Stay vigilant and train your workers to do the same!
Download this free package of Weekly Toolbox Talk's containing Ladder Safety toolbox talk and more to make life easier!
Sign up to receive our weekly newsletter with helpful safety content below!