Streamlined onboarding and orientation…the safety professional's dream. No more stuffy boardrooms, droning powerpoints, and endless gathering of paperwork! The team at Safety Evolution Software has developed functions in our safety software to make that dream come true. Welcome to Automated Onboarding!
Whether it's two new hires for your growing company or sixty mixed trades onboarding for a large project, how you introduce your new employees and contractors into your company will leave a lasting impression.
Every Safety Program starts with your most important asset...your employees! For the new employees, their Onboarding and Orientation is one of the most important moments of their career with you!
Onboarding is the process of indoctrinating your new employees and contractors. Onboarding can include payroll documents, policy review and sign-off, orientation, and training courses. The process takes on average between .5 and 2 days.
Orientation requirements are mandated by the legislation for your region or industry. Most employers are required to have some type of orientation that prepares their workers for the hazards, communicates company policies, and explains the rules.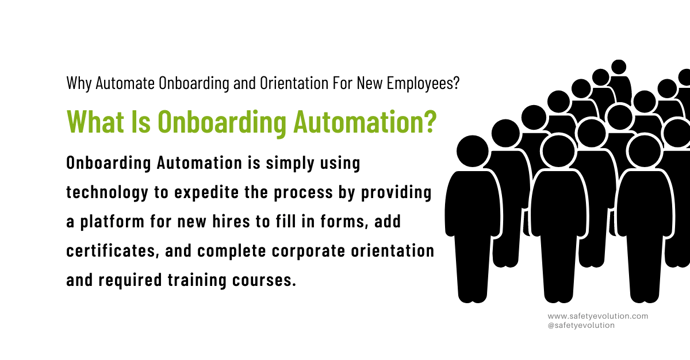 What Is Onboarding Automation?
You may have set up dozens of new hire orientations and onboarding or you may be researching for your first setup. Regardless, we can all agree that successfully bringing new employees into your company involves a LOT of organization, in-person training, and administrative paperwork.
Onboarding Automation is simply using technology to expedite the process by providing a platform for new hires to fill in forms, add certificates, and complete corporate orientation and required training courses. Your new employees receive an invite and simply use their tablet or cell phone to upload the required documents and access training courses in the safety software.
Coordinating large group onboarding is a thing of the past when you put automated onboarding in place!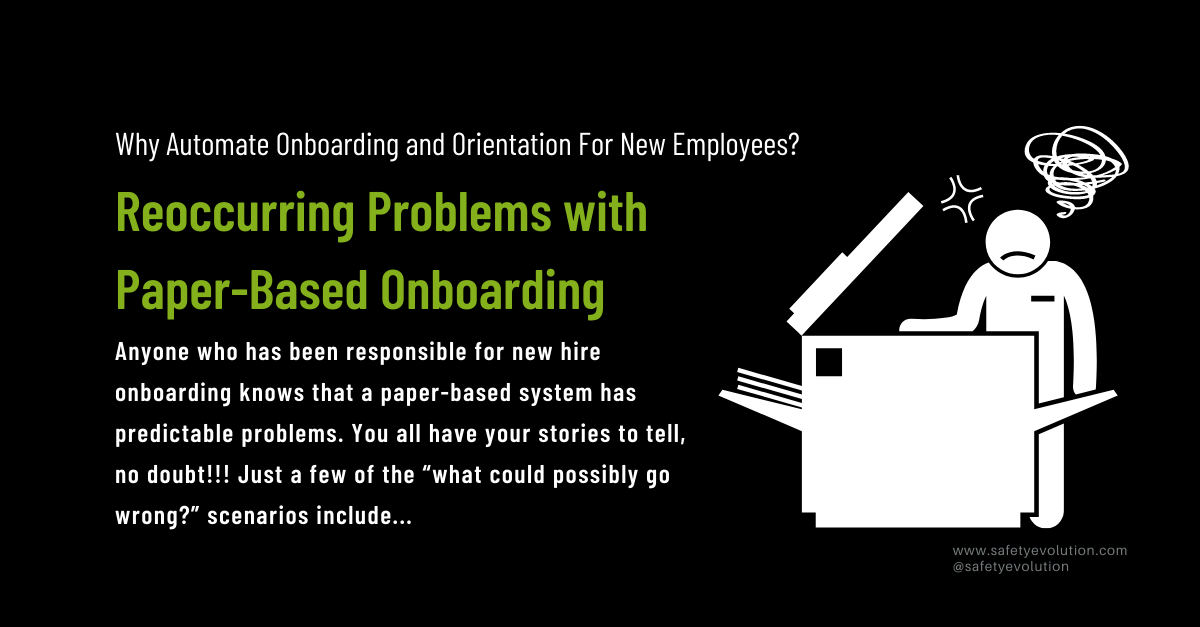 Reoccurring Problems with Paper-Based Onboarding
Anyone who has been responsible for new hire onboarding knows that a paper-based system has predictable problems. You all have your stories to tell, no doubt!!! Just a few of the "what could possibly go wrong?" scenarios include:
Frequently your HR department or the job foreman will have to remind employees ( more than once, even !) to provide their training and trade certificates.
Then comes the joy of making copies and returning the certificates to each new hire. Not too bad with a couple of employees but when that 60-person hire happens for a big turnaround project, things can get crazy really fast!!!
Most new hire orientations include a thorough review of safety policies, emergency plans, and company rules as well as special training. This all takes time, manpower, media equipment, and space.
Getting all new hires in one place at the same time can be a challenge, especially in remote areas.
Even under the best conditions, paper-based onboarding is expensive and time-consuming.
At Safety Evolution Software we have created functions to overcome the recurring problems that you may be encountering with your paper-based onboarding.
Benefits of Automating Worker Onboarding
Automated onboarding helps everyone. Employees move through the process on their own time from anywhere they may be. Employers benefit from the reduction in time and expense as well as making a strong first impression of the company's safety commitment.
With automated onboarding, your new workers can quickly move onto the job site with the knowledge that they have had a thorough orientation. Both safety professionals and site foremen can be confident that consistent training and orientation have been provided and workers have completed and passed their courses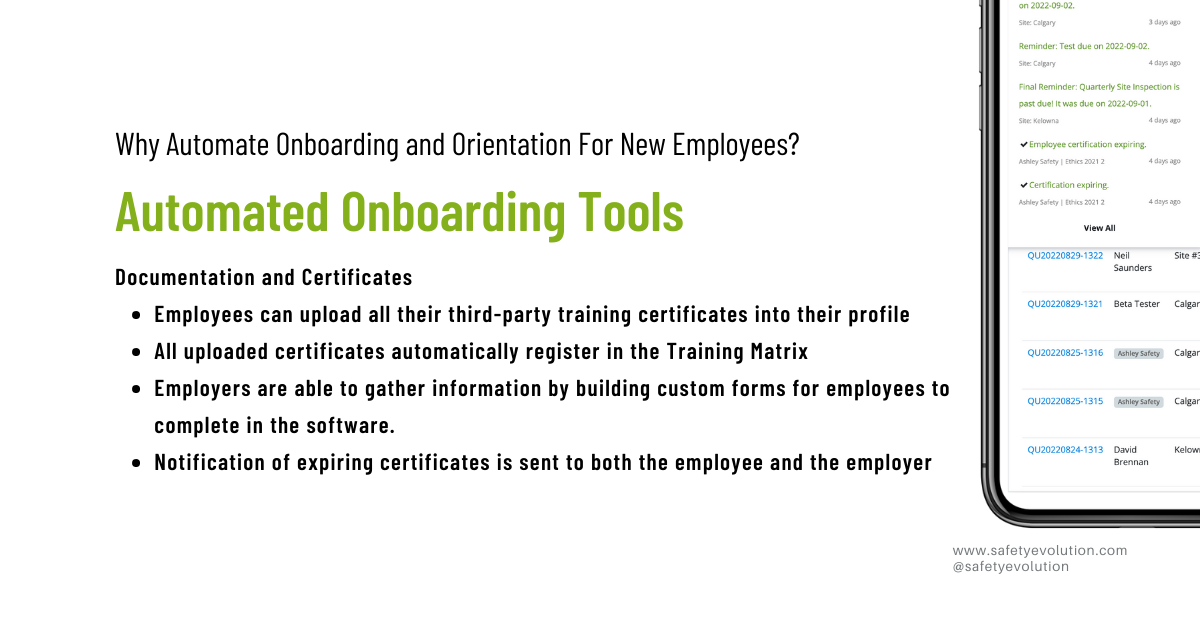 Automated Onboarding Tools By Safety Evolution Software
Training/Orientation
Employers can assign required training courses when the new hire is invited into the software
Employees have easy access to training and post-training tests.
Employers can readily see when training is completed
Training completed in the software produces a certificate and registers the training in the matrix
Documentation and Certificates
Employees can upload all their third-party training certificates into their profile
All uploaded certificates automatically register in the Training Matrix
Employers are able to gather information by building custom forms for employees to complete in the software.
Notification of expiring certificates is sent to both the employee and the employer
Seasonal Hiring:
Seasonal employees can be easily deactivated without losing their data. This makes for easy rehires for new-season startups.
Custom Training Courses
Your company training/orientation course and tests can be uploaded into the software.
OR...
Let Safety Evolution get you started with our Orientation & Onboarding Package below.

New Employees & Young Worker Safety Orientation
Download the Free New Employee Onboarding & Orientation template and get started today. The Package includes:
Safety Orientation Powerpoint ( PPT )

Safety Orientation Checklist

Safety Orientation Quiz

Safety Orientation Quiz Answers

Training Matrix
Sign up to receive our weekly newsletter with helpful safety content below!