Covid-19 has certainly been a game-changer in the workplace! The pandemic has changed the way we work and increased awareness of the need for efficient and effective Safety Management tools.
---
Safety Management Software addresses the unique challenges presented by the COVID-19 Pandemic from 5 Key Angles.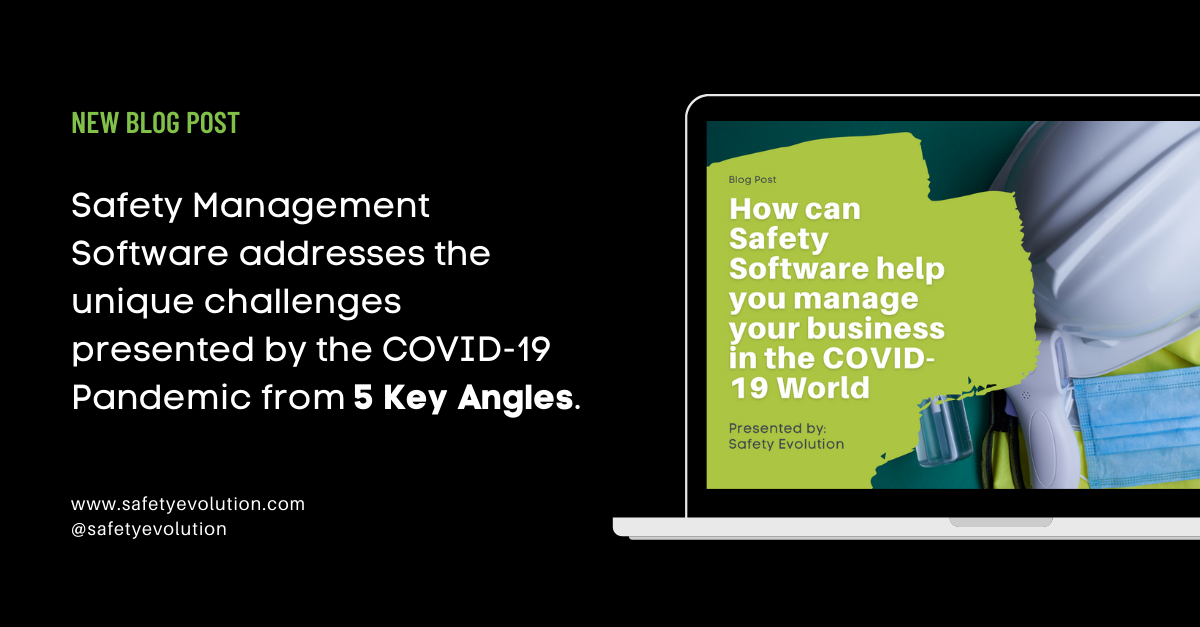 Health guidelines are adjusted and revised frequently, as the pandemic progresses.
Safety Professional is continuously challenged to adapt in order to keep workers safe.
Managing these challenges with a Safety Software System provides the safety management tools to make the required changes quickly and safely.
Continue Reading to learn how Safety Program Software can help you manage COVID19 more efficiently and safely to keep workers on the job and healthy
1

How can Safety Software manage COVID-19 prevention at work?

The proactive approach to safety is of prime importance in reducing the spread of COVID-19 in the workplace. Safety Program Software gives "real-time" access to Daily Health Checks and Alerts when a worker is sick. These are invaluable tools for keeping workers.
2

How can Safety Management Software assist with the constant COVID-19 related changes?
Health and Safety mandates during the pandemic frequently call for the revision of existing policies or the development of new ones. Safety Software allows these changes to be quickly completed and made accessible to all workers on their devices.
Workers on-site and working remotely can be brought into Safety Meetings in the software so that new policies and procedures can be effectively reviewed.
3

Why should you use Safety Software to implement COVID-19 specific inspections?
As businesses, construction sites and other industries bring workers back to the site, Provincial rules and guidelines relating to infectious disease have been put in place. As Safety Professionals, we require the ability to quickly address the requirements.
Safety Software offers the tools for building-specific site inspections and checklists for hygiene and cleaning. The software gives immediate access to completed inspection and alerts created in the Corrective Action workflow of the Safety Software allow the supervisors to resolve deficiencies quickly.
4

What Software Training Tools and Communication strategies can mean for your COVID-19 Safety plans?
Safety Software provides access for each worker to take part in training and courses from their device.
New protocols regarding COVID-19 can be built into the company platform as training courses. The safety team can send out notifications to employees enrolled in courses and track each employee's completion.
This is such a great tool to ensure that workers are adequately trained without the need for face-to-face or group sessions.
Safety Software provides the ability to easily integrate the course content into a Safety Meeting on a device in order to communicate and reinforce new protocols.
5

Using Safety Software shows the Big Picture of COVID-19 in your workplace.

Safety Software, like that provided by Safety Evolution, keeps Safety Professionals in touch with the activities of all workers and worksites.
Workplace incidents, injuries and illnesses are reported and investigated seamlessly. These tools give up-to-the-minute analytics so that risk potential for COVID-19 related hazards can be assessed and controls put in place quickly.
By having forms, inspections, and health checks readily available in the software, every worker has a heightened awareness of their responsibility to keep themselves and others safe at the workplace.
Interested in learning more about how Safety Software can help you get a leg up on the pandemic while keeping your crews working and Safe?
Subscribe to the Safety Evolution Newsletter to stay up to date with our blog and free resources below.